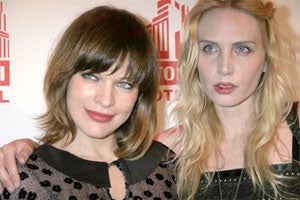 When Milla Jovovich and Carmen Hawk launched Jovovich-Hawk in 2003, they just wanted to design clothes for "funny" and "creative" women so that consumers could "look great" even if they "[felt] bad." Now, their vintage-inspired, playful, California-girl clothes are available — at much more affordable prices, I should add — via Target's GO International line. Images of the full collection and an unrepentant fan's not-so-critical take on it, after the jump.
L to R: For when you have nothing to wear upon moving to Laurel Canyon; wee, more cool jeans at Target; how I love a good chevron stripe.

L to R: Ooh baby: cute babydoll; I want this right now ; she wears shorts shorts and now I want to, too.

L to R: Who doesn't need another tee?; paging Chloe Sevigny in Big Love; also must have this one.

L to R: Ok, I don't wear bikinis — but you might; a chic beach cover-up, me thinks; easy, breezy, beautiful.

L to R: Could be trashy if not played right; so so so chic!; um, is this from the juniors department? Ca. 1992?

L to R: Polka dots and vests, two of my favorite things; it's not a cover-up if it's sheer; um, except for this, which I love.

L to R: Sweet suit; so Serena van der Woodsen; too many layers for my taste.