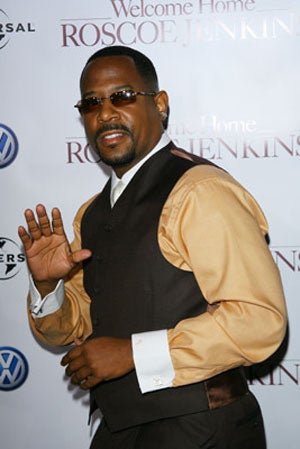 Last night in Los Angeles, the stars of the new film Welcome Home Roscoe Jenkins turned out to bask in their own glory. Some, however, looked more glorious than others. While Martin Lawrence, the film's lead, kicked it old school, the other looks ranged from drop-dead gorgeous (Joy Bryant) to looks-like-she's-gonna- drop-dead (Rachel Nichols). The full good, bad, and ugly, after the jump.








The Good:
Joy Bryant is radiant in white. Get me this dress! Please.


Mo'Nique is fierce in blue — and with her man.


Salli Richardson makes casual look classy.


Gina Ravera's detailed shift? Adorable.

The Bad:
Brooke Lyons: The dress doesn't flatter the boobs; pageant hair, pageant stance. The fantastic color can't save this look.


Erin Cummings' dress is just much too much in all the wrong ways.


Nicole Ari Parker: Too short, too tight, too white.

The Ugly:
Cindy Margolis: Aghhhhh! Shield your eyes!


Rachel Nichols: Death warmed over? And what's with the sheer black stockings? Ay.

[All photos via FilmMagic.]