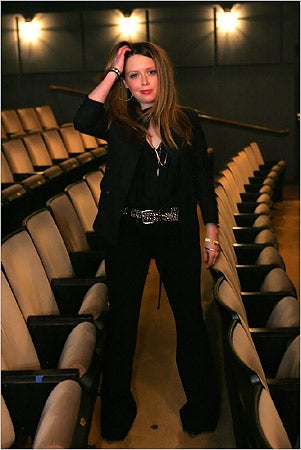 Here's a little treat for all you Britney/Amy fans out there: Natasha Lyonne is not dead. Not only that, the American Pie/Slums of Beverly Hills actress — whose strict religious family pushed her into show business as a child against her wishes, only to watch her come into her own as a teenager, gain a huge following followed by a rebellious stage followed by an assortment of drug addictions so severe she systematically alienated everyone who had ever cared about her with a series of drug-addled, inexplicable outbursts culminating in "I'm going to sexually molest your dog" (to friend and landlord Michael Rappaport) — is actually working. (She's in a play. It sounds really uplifting.) And smoking cigarettes casually while telling the New York Times about how she finally decided to kick the "opiates" habit. "I took it about as far as I could," she said with finality. "And I didn't die, so I decided to live." But first, she had to hit bottom.
Matters reached their nadir in the summer of 2005 when she checked into Beth Israel Hospital in New York and was put in the intensive care unit with a host of ailments, including hepatitis C. She remained in the hospital for five months.
Um, good thing Dr. Phil wasn't around to "intervene"?
When Living At All Is The Best Revenge [New York Times]
Unrelated: Natalie Merchant is also alive [New York Times]