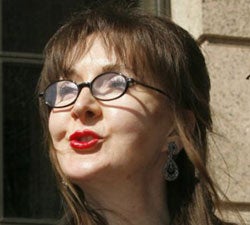 Deborah Jeane Palfrey, the D.C. Madam whose infamous phone list of clients shook up Washington this past year, gave an awesome interview to sexpert Susie Bright on her podcast In Bed. First off, Palfrey is funny and engaging. Secondly, we sort of like her for pronouncing "Washington" as "Wershington." In the interview, Palfrey tells Bright that she would have preferred to keep this whole legal matter private, and accuses the U.S. Justice Department leaking the info of her raid to "The Smoking Gun" after she refused to settle and fork over her life-savings as part of a plea deal. In retaliation, Palfrey released the list of phone records of her clients: Prominent D.C. personalities and government officials, most notably Louisiana Republican Senator David Vitter, who ironically (or perhaps predictably) is an advocate for fidelity. When Bright asked Palfrey why the government would target her she said:
I was obviously sitting on a powder keg of information. Much more yet is to come out, I do believe. David Vitter is not the soul and substance of my entire 13 years of operation, that's for sure.
Oh snap!
Palfrey goes on to say that she was being observed "J. Edgar Hoover style" for 31 months before she was finally raided. Indicted in February on federal racketeering charges, Palfrey maintains that she was simply running a "high-end adult fantasy firm" and that the women working for her were "independent contractors who breached their contracts by engaging in illegal sex." Anyway, she's way pissed at the government. Get an earful here.
Susie Interviews The D.C. Madam [Susie Bright]
Related: Interview [Fleshbot]