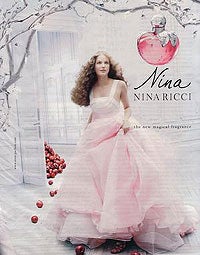 Today, fashion-blog-behemoth Coutorture linked to TheRunwayScoop, which has a little item on what one writer thinks makes a good fashion ad. She mentions a Nina Ricci fragrance ad (pictured) that made her stop and pay attention. "There's something magical and dreamy-like about this ad. It tells a story," she writes.
Fashion ads, or any type of marketing for that matter, should evoke emotion from the customer. That's how you capture attention. That is what makes women stop turning the pages of a fashion magazine — at least for me it works.
You know what? We agree. The ads that stand out for us — that we think work best — are the ones which seem like stills from a movie, or are so unexpected (like those new Harry Winston ads where the jewels are on a raven) that you're forced to stop and take note. The author, Maria Palma, goes on to write that ads should:
stand out and spread a message or tell a story. Women remember stories... not ads with women laying around. Those ads were probably created by men who like those kinds of things.
Hey Chanel's Jacques Helleu, are you listening? [TheRunwayScoop, via Coutorture]