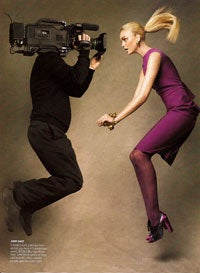 It's not too late to enter our LOLVogue caption contest and win a cheeseburger of your very own. Come on, put werds on moddles! A winner will be picked by the end of the day! So far, we've had a lot of great suggestions — after the jump, some of the best.
Invisible see-saw
I jumpz 4 u. pleeez cheezburger now?
Invisible locuhmotive hand car.
anna sez jump i sez how hi
oh noes!!!11 i hitted papuhratzi with mah invisible vespa!!1!
i gets high on camera. i pwnd k8 moss
OH HAI, I CAN HAS CLOSEUP?