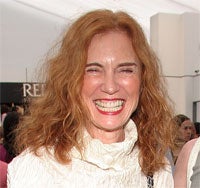 There's trouble in Times Square! A high-heeled Conde Nast employee recently stepped on the toe of Glamour beauty director Felicia Rogawska Milewicz (pictured) with her stiletto, reports beauty editor Stephanie Huszar.
In pain, Felicia looked at the woman who dismissively said, 'Oh, sorry' (or something similarly curt), then just went on with her conversation.
Who was the rude Conde Nast-y? Our bets are on someone from the 10th floor. Or Lucky's notoriously self-absorbed Jean Godfrey-June.
Ouch! [Glamour]