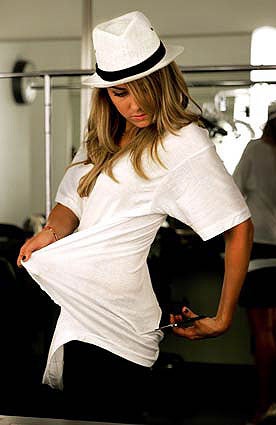 The crazy thing about the existence of noxious, unctuous, irritating couple Spencer Pratt and Heidi Montag? We're tricked into forgetting that their foil, Lauren Conrad, is a spoiled brat from über-Republican, 92% white, richie-rich enclave Laguna Beach. Sure, she's much more industrious than we are, but that doesn't mean she's not a snob. LC accepted a challenge posed to her by the Los Angeles Times (a newspaper we assume she's never seen, since she admits she only "reads the weeklies") to put together a whole outfit for $100. So our (anti) heroine trekked to L.A. shopping spot "the Alley," apparently a West Coast mecca for bargain hunters.
It's not where I'd normally come to shop... I like finding bargains. But I usually like going to thrift stores like Out of the Closet, which I'm obsessed with, for party dresses from the 1950s. I'm not used to this, not this. It's a lot of counterfeits. It's a lot of cheaply made things.
Um, hello? Did you think you could get fine Italian stitching for a hundred bucks??? But there's more!
I wish they'd make the sunglasses without the labels. I don't care what brands they are, but I don't want to wear them as fakes, counterfeits. No label is the best label.
My dad loves to barter, especially when we're in Cabo. My mom's the opposite. She'll just pay and get it over with. For me, it really depends...
I should've gotten one of those gnarly fake Rolexes.
To recap: Daddy stiffs Mexicans and Mommy throws money around like it ain't no thing. LC can't help it if she sounds like a whiny ingrate! She's An Alley Girl [LA Times] Earlier: Lauren Conrad Works Harder Than We Do