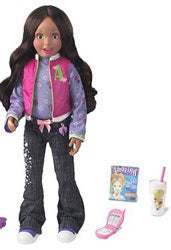 "If you're a little girl of color, this is your year." So says Denise Gary Robinson, president of an online doll boutique that specializes in ethnic dolls. ABC News reports that Kmart is going to put dozens of multicultural dolls in its 1,400 stores.
The next generation of dolls have diverse eyes, noses and mouths instead of the traditional "white" dolls whose skin was dyed and whose hair was tinted in a darker shade.
We checked out the Kmart site to see what these "diverse eyes" look like, and all we could find was Amazing Allysen, who comes with a cell phone and a smoothie. Unlike the Bratz, she's not dressed like a Thai hooker. Progress!
The push for multicultural dolls comes from the success of bilingual doll and TV character, Dora The Explorer. Also pushing? The fact that one in three Americans is a minority, and "Hispanic buying power" should be at $1.2 trillion by 2011. One toy analyst is skeptical, implying that the Kmart dolls will never be as big as Barbie or Bratz. "Why would I buy a generic ethnic doll over this major brand that has all these accessories?" Touché, sir! Still, this seems like a step in the right direction. Although our dolls never came with cell phones.
Kmart Launches Multicultural Doll Brands [ABC News]
Earlier: Year Of The Living Dolls