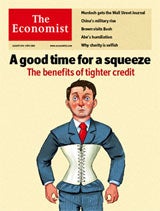 Regular magazines are getting more like women's magazines with every round of media consolidation. This week's 'Economist' featured a particularly girly cover, with its peach tones and corset motif meant to indicate that if we all stop spending so much goddamn borrowed money maybe we will be able to avoid economic Armageddon or... nevermind. Probably too late. But look! Inside this week's issue, there's some very gynocentric stuff.
Saudi chick lit is just like our chick-lit! The latest (banned, natch) bestselling lady book in the kingdom, Samizdat, has an "irritating" and "perky" tone, concerns characters who are obsessed with love and astrology, and eventually become somewhat embittered and emotionally unavailable.

A story on Muslim fashion introduces us to the concept of the "burquini" — a cross between a burqa and a bikini. Um, developing. But wait, didn't Marie Claire already do that?

Rudy Giuliani's too many marriages are paving the way for a possible Republican bid from... Newt Gingrich? And after the jump, everything else you need to know about the world from the greatest magazine we don't read anymore because we're too busy bringing you pretty colors and ephemera.