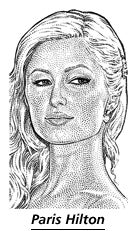 You asked us to find a way News Corp.'s acquisition of Dow Jones was bad for women, and in today's Wall Street Journal we finally found our answer in the form of not one, but two separate lady-penned "Personal Journal" section stories exhorting the womyns to wear uncomfortable clothes in the workplace, even when it's a workplace called your couch. Advises author and veteran apparel industry reporter Teri Agins on telecommuting chic:
By all means, dress comfortably, but get out of those sloppy sweats, pajamas and terry-cloth slippers...ladies, keep your hair coiffed and put on some lipstick.
But just alongside her on page D8 she is so totally one-upped by longtime hospitality industry reporter Christina Binkley, who manages to find a blogger who wears stilettos on the job for the "intimidation factor."
At 5'9½ in bare feet, a pair of heels leaves Kristin Bentz, who runs a fashion-investment blog, towering over many men in a room. "I totally use the shoes for the intimidation factor — for women and for men," she says.
For the record, we used to sit next to Christina Binkley, whom we never remember wearing stilettos because, you know, her work sort of spoke for itself or whatever. AND LOOK AT THE TWO OF US NOW. She learned how to dress, and we're in sweatpants on the sofa repurposing her content for hits.
Heelpolitik: The Power Of The Stiletto [WSJ]
What To Wear When Working From Home [WSJ]