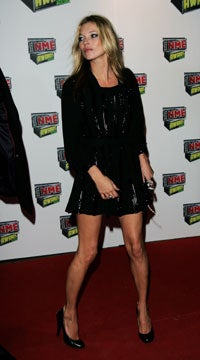 A new study in the UK of 2,500 women produced some interesting results when it comes to appropriate clothing: No miniskirts after 28; no bikinis after 48; no tube tops after 33; no belly-button piercings after 35; no long hair after 52! What does this mean for celebs? Kate Moss loves short skirts. She's 33. Nicolette Sheridan has five more years to wear that bikini (Sharon Stone should have stopped wearing one last year). Heather Locklear's skirts have been inappropriate for the last seventeen years. Angelica Huston? Time to get the locks chopped short!
So we're sending a memo to 28-year-olds Mena Suvari, Jennifer Love Hewitt, Kate Hudson, Evangeline Lilly, Kimberly Stewart, Pink, and The Real World's Trishelle: Hike up your skirts now, ladies! Next year it'll be too late.
P.S. Guess what? The survey was not as tough on men! Dudes can wear jeans until they're 64 and hoodies until 39.
Women Over 28 Should Bin Their Mini-Skirts, Study Shows [DailyMail]