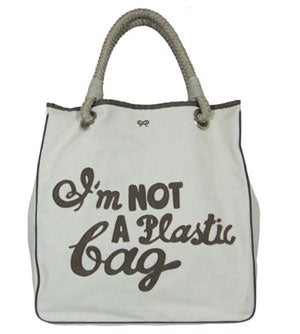 Fresh from our email inbox and courtesy of our friend Amelia (love that name!):
I was feeling super proud for rousing myself out of bed on this rainy Wednesday in order to attend a yoga class in Union Square (this close to achieving a headstand, woohoo!), but my efforts were totally overshadowed by the huge crowd of people lined up outside (and around the block) of the neighborhood Whole Foods. Was there a sale on the normally $6-bucks a pound grapes or something? I asked one of the many fashion-y girls waiting in line and clutching half a dozen shopping bags what the deal was. "I'm not a plastic bag," she snipped.
Yeah that's obvious! Oh wait! She was referring to that tote bag by designer Anya Hindmarch that's been the must-have handbag for suddenly-green celebrities. Wow, 200+ environmentalists waiting in line for hours in the torrential rain just so they can grocery shop without the weight of planetary erosion on their conscience? They must be more in touch with the Earth Goddess than me and my headstand! Except for the fact that this $15 bag is produced in sweatshops, is already being auctioned off on eBay for the unethical and retarded sum of $255, and is undoubtedly going to be swathed in a plastic one to protect it from getting wet. But being that I Am Not A Politically Correct Shopper, I suddenly realized I want one for myself. Uh, do you guys know if they're sold-out yet?