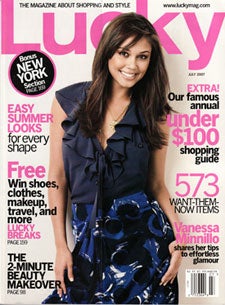 Glossed Over's vain and vitriolic blogger is taking her favorite target, Lucky, to task for its unyielding — and subsequently totally meaningless — use of the word "rich" to describe various items (sandals, bags, blouse) featured in the July issue. Does "rich" mean "expensive" she asks? "Shiny"? "High-quality?" "Well-pigmented"? No one seems to know (although according to market research, the word "rich" would best describe the women who read the magazine!) What we do know however, is that "rich" is one of those words or phrases that needs to be jettisoned from the product pages of women's magazines, and pronto. Some other words we have in our sights: "matchy-matchy" (cutesy, annoying, redundant); "merch" (lazy, insidery). And of course, our favorite: "lurve" (sorry, Ashley Baker).
Lucky's Taste Too "Rich" For Us [GlossedOver]
Earlier: Hating The Word 'Lurve'
'Lucky' Magazine Readers Have A Very Good Year. The Rest Of Us? Not So Much!