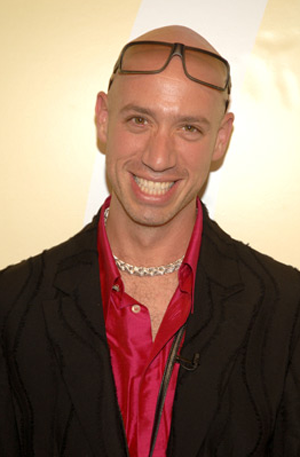 While last night's Gen Art Style Awards (the SAG Awards to the CFDA's Oscars) were rather uneventful sartorially, we were shocked that no one jumped on stage to save MC Robert Verdi from himself. "Fashion means there are hot gay boys here," Verdi began the evening, "Hot, naked gay boys....And I've become a dirty old man and haven't had sex in ages." So began an evening of attendees paying really close attention to their blackberries. More special moments, after the jump.
On the most we could hope to get out of the evening:
"Date someone who is wearing something fashionable. Fashion isn't about clothes, it's about naked. But no one wants to see me naked...unless I'm paying."
Introducing one of the evening's judges, designer Cynthia Rowley:
"Cynthia Rowley here gave me my first job in fashion. She's always telling me to please not tell people that. I was half the age I was now when I got that job. So that means Cynthia is really, really old."
Before announcing the final award of the evening:
"Now you all know what it's like to sleep with me. You think you'll only have to see me once, and then I keep turning up."
Ha! That pretty much nailed it, Bobby V! In fact, that whole evening was like having really, really lousy sex. In front of people. Lousy, neverending sex.
Related: At Gen Art Fashion Show, New Stars Are Born [New York Magazine}