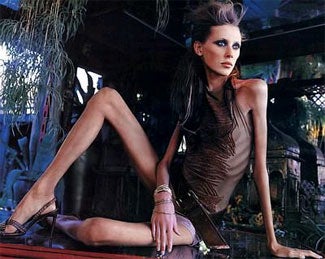 Responding to yesterday's article about The British Fashion Council's creation of a "Model Health Inquiry", writer Zoe Williams weighs in with some choice thoughts of her own, namely, that models are already amply protected by law and that any attempt to regulate their treatment at the hands of evil-minded fashion editors is totally sexist:
This leaves us with a committee addressing the issues of "what do they eat?" and "do they abuse drugs and alcohol?" Can you imagine the music industry tasked with coming up with guidelines like this? They would laugh in your face. Why are models different? Because they are mainly women, and it is fine to treat women like 8-year-olds, given that women are so often the driving force of this bilge. And because they are beautiful, and beautiful people often can't think rationally, since God doesn't bless them with brains as well as beauty.
Oy: Now we're all confused and stuff! We thought feminism was supposed to be straightforward; you know, visible ribs = the patriarchy!
Another Fake Controversy [Guardian]
Earlier: Fashion Models: Total Cows
Related: Watch Your Step: Fashion Industry Told To 'Grow Up' Over Models' Health And Safety