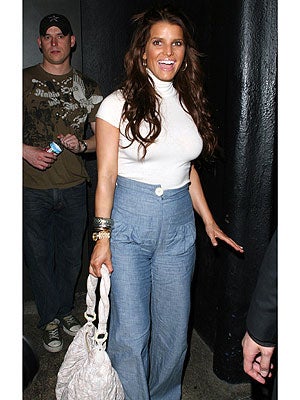 People's Off the Rack blog is asking readers what they think of Jessica Simpson's new high-waisted look. Most of the reader responses are equally direct, adopting a general "No-she-looks-fat-those-pants-are-ugly" attitude.
Not reader "S," though, who instead seizes the opportunity to explain why she's hot and why Jess is not:

This is the WORST look I've ever seen on Jessica. She looks like a pregnant lady from the 50s trying to cover up that she's pregnant. I've got curves and those are good if you've got curves on the bottom...I actually have a pair of Express pants like that and they hide flaws AWESOMELY. They just look awful on her.
Forget what the popular media and John Mayer might say, "S" calls it like it is: Fat and ugly.
Would You Wear Jessica Simpson's high-Waisted Pants? [People.com]