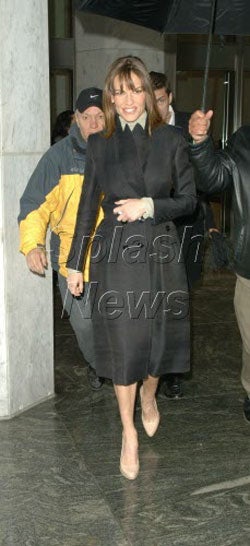 (New York, April 4, 2007)
Something's wrong in Hilary Swank-land. The actress' new film The Reaping is not only getting shiteous reviews, but the flick represents the third consecutive silver-screen stinker the actress has appeared in since winning her 2nd Oscar for Million Dollar Baby.
Interestingly, the three films — the other two are The Black Dahlia and Freedom Writers — are films that Hilary (most likely) signed onto after she'd decided to divorce Chad Lowe and take up with hotshot H'wood player John Campisi. The same John Campisi who serves as — ready for this? — her agent.
Hilary's story should serve as a warning to ambitious women who want to trade up from their perfectly-lovely, obsessively-adoring, and kind-of-meek boyfriends or husbands. Nothing good comes from letting the guy wear the pants in the relationship.
'The Reaping' Is Just Repelling [USAToday]
[Image via SplashNews]