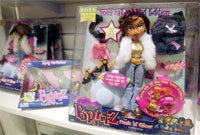 For some reason (It's the money, stupid! -Ed) Hollywood has decided that making a movie based on the ever-popular and increasingly-sickening Bratz dolls is a good idea. Coming this August from Lionsgate is Bratz: The Movie, a live-action (comedy? tragedy?), in which the Bratz — Sasha! Jade! Chloe! Yasmin! — enter high school, learn to hate each other, then reconcile in a final denouement involving a talent show and the comeuppance of a mean-girl named Meredith.
Producer Avi Arad describes Bratz: The Movie as full of lots of "great life lessons".
The girls go through "a lot of self-discovery," Arad says. "It's all about empowerment, believing in yourself, and wish-fulfillment."
Sounds like a modern-day Norma Rae but with fur-wraps and 5-inch heels. We smell Oscar!
First Look: 'Bratz' Girls Belly Up To The Big Screen [USAToday]