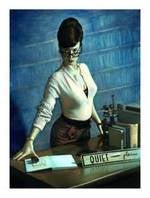 Remember the big brouhaha over the Newbery Medal-winning, "scrotum"-plugging children's book The Higher Power of Lucky? Well there's a new controversy among suddenly publicity-hungry American librarians, but this one's over boobalicious Beyonce Knowles.
Consumerist is reporting that U.S. libraries do not have copies of the Sports Illustrated swimsuit issue because publisher Time Inc. decided it was inappropriate to send the magazine to "institutions". And American librarians aren't happy about it. Says one librarian from the University of Dallas: "It should be up to the institution to decide whether or not they choose to make the issue available to patrons. The publisher should send the issues we've paid for. If we throw them in the bin, that's our prerogative."
We wonder what The Higher Power of Lucky author Susan Patron has to say about all this.
Sports Illustrated Refuses To Send Swimsuit Issue To Libraries [Consumerist]
Sports Illustrated Withholds Swimsuit Issue From Libraries, Schools [Library Journal]