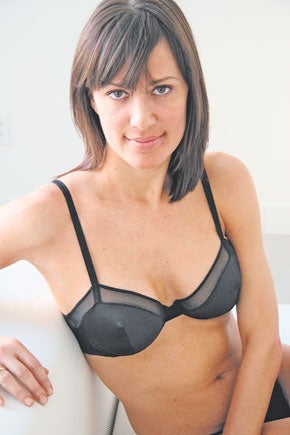 We missed this earlier but WWD is reporting that intimate-apparel designer Le Mystere is launching a new line called Le Mystere No. 9 (sounds suspiciously like R. J. Reynolds' new female-directed tobacco offering!) designed specifically for women with breast implants.
Apparently, conventional bras just don't hold saline and silicone breasts in the correct way, or so says plastic surgeon David B. Brothers, who came up with the idea. According to Dr. Brothers:
"The conical shape of the cup is wrong, the flattened semicircular shape of the underwire is wrong and the design of the center connector is wrong."
Uh, we can think of a few reasons why. But no matter. What's almost more interesting than Dr. Brothers' tacit admission that fake breasts look nothing like real ones is Le Mystere's plans to only carry the No. 9's in sizes from 32 to 36; meaning that only big-breasted women of the narrowly-ribbed variety will be able to enjoy the brand's simple pleasures, which include "a sleek T-shirt look", "a triangle-shape style" and "a strapless style with a bump pad".
Look like a porn star AND pretend you're pregnant? It's two Tinseltown trends in one!