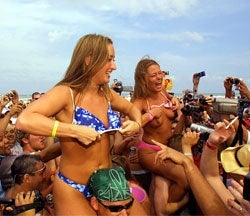 Breaking! The Gulf Coast resort-area of Cancun may be experiencing a shortage of tits and ass, no thanks to Wilma (as in Hurricane) and the U.S. government, which have conspired to send the binge-drinkers of U.S. universities stumbling to other — less expensive — wet T-shirt destinations.
"A year beyond Hurricane Wilma, Cancun is trying to refine its image...You won't see the keg stands downtown or 10 kids to a room" that characterized spring break during its heydey in the late 1990s, says CheapTickets.com's Brian Hoyt.
The young exhibitionists and date-rapists in training are flocking instead, to the Florida panhandle, where "an estimated 300,000 students will congregate over a 40-day period that crests in mid-March." (Where no doubt, Girls Gone Wild film crews will follow).
"We decided back in 2000 that if we were going to have (spring break) here, we'd embrace it," tourism chief Robert Warren says. "The college students of today are the professionals, families and empty-nesters of tomorrow."
We don't consider ourselves at all religious but...Lord help us.
Higher Prices, Passport Rules Could Rain On Cancun's Party [USA Today]