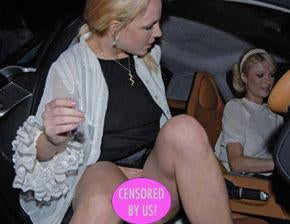 While Lindsay Lohan writes long rambling coke-fuelled emails about Al Gore and Howard Hughes, Britney Spears shows infinitely more class in defending her knickerless adventures about town.
"It's been so long since I've been out on the town with friends. It's also been two years since I've even celebrated my birthday. Every move I make at this point has been magnified more than I expected, and I probably did take my new found freedom a little too far. Anyway, thank God for Victoria's Secret's new underwear line. I looke forward to a new year, new music and a new me."
Now we admit, we've been a little conflicted about Britney over the past few years. True, she did marry a stinky no-good wastrel, walked barefoot in public restrooms while sporting criminally bad hair, and if she's not as dumb as a bag of spanners, she's not far short of it. But then she did grow up a Mousketeer, her dad was a drunk and her mother only cares about Jamie Lynn these days, so we're inclined to give the girl a break. And we don't believe for one minute that she's a bad mother. Even if she wears no knickers, snorts a little coke, and has sex with Paris Hilton. If that were the criteria, most of Hollywood's under-10's would be in foster care.
So well done Britney. Also, you might want to think about ghostwriting Lindsay's stuff.