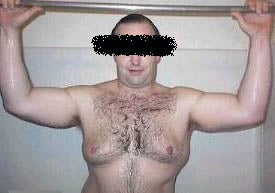 We once had a boyfriend who told us we'd be absolutely perfect if we just went down the gym and toned up a little. We dumped him, of course.
But now we're older, wiser and distinctly more vicious, so instead we'd have just have smiled sweetly and given him a gift-wrapped copy of Mantalk instead.
Written by New York's very own Dr. Elliot Jacobs ("who has practiced the art of "subtle surgery" since 1977"), it's packed full of the kind of horrifying physical imperfections that should cripple your loved-one's self-esteem in no time.
By the time he's read the book he should be ready for Dr. Jacobs' "full range of aesthetic plastic surgery procedures include the mid-facelift, gynecomastia (male breast reduction), breast augmentation and reduction, nasal surgery, liposuction, body contouring, eyelid surgery and other aesthetic procedures. "
Male breast reduction. We love it.
NOW, you can go ahead and dump him.