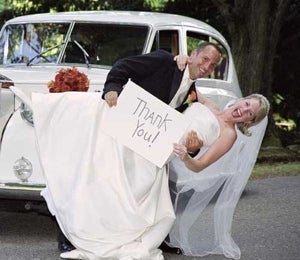 We can't help but think that if you run not one but two dating sites, it couldn't be too hard to sample the product and come up with a mate. After all, you're getting a sneak preview every day, while the rest of losers chase the pickings you evenutally post up.
Not so, for newly-wed Rebecca Benjamin, who cheerfully, but surely a tad suicidally, admits to the NYT (bonus throway mention of Dan Quayle involved) that she found her husband while speed dating. Someone get this girl a PR.
Meanwhile we'll try not to get killed in the stampede to sign up to SawYouAtSinai.com.