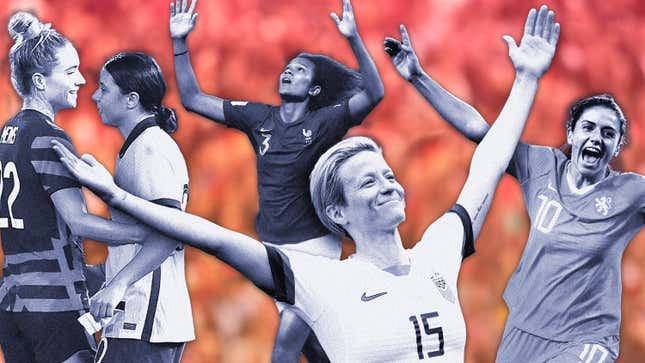 The FIFA World Cup kicks off July 20, gifting us a month's worth of jaw-dropping athletic achievements and a reason to meaningfully use the 🇺🇸 emoji for the first time in a long time.

2023 marks the biggest Women's World Cup ever, literally and culturally. It's being hosted by two countries (Australia and New Zealand) for the first time, has 32 teams competing across 10 stadiums, and organizers are aiming to double the 2019 Cup's 1.2 billion viewership with a record audience of 2 billion.
But behind the scenes, there's been fired coaches, failed mutinies, burgeoning love, lots of name calling, and—because we're talking about women athletes—plenty of stories about teams fighting to get paid what they're worth. Team USA is favored to win it all (knock on wood!), the Netherlands will be looking for revenge, and Canada's Christine Sinclair could set a new international record.
We've assembled a handy primer on all this and more for your 2023 Women's Cup literacy. Let's Go! Kick! Kill!