Grab a bottle of rosé and gather 'round because it is time for the 2014 Emmy Awards. Let's watch very highly paid celebrities attempt to stay on their best behavior!
Thus far, Laverne Cox (who looks a million Old-Hollywood bucks) has revealed that last year she watched the Emmys at home alone and Hayden Panettiere says she's having a girl and E! has added a CLUTCH CAM. Oh, and Kit Harrington has confessed to skinny dipping. This Emmys already feels loosey goosey:
Jimmy Kimmel is en route, apparently obeying the carpool request and making his own tribute to Robin Williams:
G/O Media may get a commission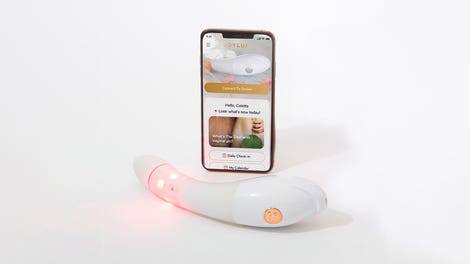 $50 Off
Joylux vFit Gold Device
7:00: This thing has barely started and already Guiliana is already trying to get new tech toys out of E!: "Is there maybe a cam you think we're missing?" Heidi Klum: "A twerk cam." She proceeded to wiggle her butt.
Meanwhile, Lena Dunham says she got chased through the airport the other day by paps who wanted a comment on the "rumors" her hair is a wig?
Oh, and shout out to Sarah Silverman: "This is my pot. My liquid pot." I am pretty sure she said that and I did not hallucinate. The Clutch Cam got weird in a gratifyingly short period of time!
7:05: Jimmy Fallon just said hi to his "very smart baby." Also his show is "all done with love." What would it take to get Jimmy Fallon to talk shit about someone?
7:15: Seeing a lot of hairdos that look just... a little sad and deflated and oh dear. Theory: Julie Bowen mentioned that she opted for a different dress at the last minute because it's so hot, so everyone's just sweating away their hairdos. EMMY CATASTROPHE.
Also, Aaron Paul is a good sport.
7:25: Seth Meyers is nervous, allegedly: "I am not calm, not collected, but I am going to fake it 'til I make it." He also confessed that he has not watched Botched. My God, Seth, get your shit together. Speaking of fucking up, Matthew McConaughey forgot how to pronounce the name of the designer who made his wife's beautiful gown. Glad he's staying on-brand.
Also, Lena Headey is a QUEEN and should rule over Westeros and also Los Angeles and my heart, too, while we're at it.
7:28: The hilarious and charming Sofia Vergara has never named her boobs. FYI. Giuliana thinks "Susie and Doris" would be good boob names. So.
7:33: Everyone looks like members of a Southern marching band lining up in wool uniforms for the first home football game of the year (so in August). Really getting worried about some of these celebs. Weird vibe, man.
But HARK! Kerry Washington is here to remind us that Scandal returns in less than a month and the fashion will be great and the bags will be smaller because they're no longer hiding a pregnant belly. But what of those white coats and glasses of red wine? "Olivia Pope is better than that. She doesn't spill." The ultimate in aspirational luxury.
7:44: "You're almost an EGOT!" "Well, I've never won." HANG IN THERE, Kristen Wiig. Also she's planning to watch with her mouth "slightly open" the entire time, she promises. Stars! They're just like us!
Oh, and now E! is treating us to a preview of their bonkers new show where Elizabeth Hurley plays the Queen of England. Clearly this is the royal family E! wishes they had to work with.
7:55: When you're Julia Roberts, you wear whatever the hell you want, even if it's long sleeved and knee length and covered in a thousand pounds of sparkles. Ballgowns are for sweltering starlets. Zero. fucks. given.
ALL RIGHT SHOWTIME YA'LL. But let me leave you with some food for thought:
8:05: Seth Meyers opened with a potshot at the fact the Emmys are on a Monday in August ("If I understand television correctly that means the Emmys are about to be canceled"). My main takeaway from this intro was that Adam Levine is in attendance because we cannot escape him, ever. Meyers did take a moment to defend the Emmys in comparison to the famously tipsy Golden Globes: "Here everyone just sits silently in one place and waits for the pills to kick in." Sounds like my kind of party.
Plus, a spot of solid industry advice: "Kill off all your main characters or before you know it, you're paying Sheldon a million dollars an episode."
8:10: Amy Poehler gets introduced as Beyonce, because she knows what's up. And taking home the trophy for best supporting actor in a comedy series: Ty Burrell of Modern Family. His speech is a long tribute to the kids in the cast and it's honestly pretty cute.
What's with that backdrop? It looks like they're mice standing in front of a closet door.
8:16: Zooey Deschanel and Allison Williams appeared onstage together and presented the award for comedy writer and somehow the universe didn't collapse. (It seems like it would've, right?) Louie C.K. gets the trophy for "So Did the Fat Lady," and just says: "I really appreciate this very much, thank you." I guess he saves the writing for the TV show!
Also: After Jimmy Kimmel razzes Matthew McConaughey (complete with poke at Julia Roberts!) for several cathartic minutes, ALLISON JANNEY picks up an outstanding supporting actress Emmy for "Mom" and is a charming role model for your entire life, as usual.
I can't believe I'm saying this but I'm into that pink velour.
8:30: Outstanding direction for a comedy series goes to: Gail Mancuso, Modern Family. Apologies to Jodie Foster and her episode of OITNB. Man, the Emmys fucking love Modern Family. But!
8:35: God bless this special Emmys edition of "Billy on the Street" and the poor woman who could not, even with all the help in the world, identify the Emmy. The poor, forgotten Emmys. No one cares about them! I hope the money collected for the needy cast of The Big Bang Theory went to actual research scientists or something.
8:40: Jim Parsons just won his fourth Emmy. "Um, wow, I don't believe this." Even Jim Parsons doesn't believe it. (Lord love him he makes sooooo muuuuuch moneyyyyy.) Also: "There's no accounting for taste" is a thing he really said in his acceptance speech. GeneKellyThatsEntertainment.gif
8:45: And with a joke about Kim Kardashian's pots of iPhone app money, outstanding leading actress in a comedy series goes to Julia Louis-Dreyfus, who took some time on her way to the stage to make out with Bryan Cranston. THE FAN FICTION IS COMING TO LIFE
8:48: And the reality show Emmy goes to The Amazing Race. Sure, why the hell not.
That 'stache, y'all:
8:55: God bless this Q&A, too. Seth Meyers knows when to enlist his friends' help, I'll give him that, and his best act as host has been setting up Melissa McCarthy to announce petulently: "Edie Falco said if I left a note I wouldn't get towed." Also I love Jon Hamm's beautiful dopey face:
8:58: Allison Janney and Octavia Spencer threaten a sequel to The Help before handing out two miniseries awards. Outstanding director writer goes to Stephen Moffat for Sherlock: His Last Vow, even though the wedding episode was totally better. His bio is all about Doctor Who. Kathy Bates and her amazing silk jacket win supporting actressfor American Horror Story: Coven and like a class act she thanks their crew for the "grueling hours" they worked. Love her.
9:07: Stephen Colbert is delivering a tribute to Roscoe, his imaginary friend and the greatest supporting actor of his generation. Best supporting actor in a miniseries goes to Martin Freeman who is... not here. Best director goes to Colin Bucksey for Fargo, who is just glad he got back from "the loo" in time.
9:16: Amy Poehler and Seth Meyer decided to workshop some possible intros for Matthew McConaughey and Woody Harrelson before they appear as presenters. They finally settled on: "Ladies and gentlemen, the only two actors in Hollywood not rumored to be appearing in True Detective." Accurate! Woody takes the opportunity to trot out his impression of McConaughey. I swear these guys spontaneously appear at every family reunion in the Southeast.
The award for best actor in a miniseries goes to Benedict Cumberbatch but he DIDN'T SHOW, so we were deprived of the opportunity to see Benedict Cumberbatch interact with Matthew McConaughey and Woody Harrelson. Goddammit, we might as well just cancel the rest of the show and go home.
9:25: Kerry Washington and IDK some dude appear to hand out best actress in a miniseries to Jessica Lange for American Horror Story: Coven. That little hand wave for help up the stairs is how it's DONE, friends.
9:30: Heaven help us, it's Andy Samberg introducing Weird Al doing lyrics for TV shows. I like that this built to chanting "WRITE IT FASTER, WRITE IT FASTER" and Andy handing George R.R. Martin a typewriter. Man, he really got the last laugh on everybody who didn't like Beauty and the Beast, huh? They extended the bit long enough for Lena Headley, goddess, to award outstanding miniseries to Fargo (after batting away Samberg in full whiny Joffrey getup).
9:41: The Normal Heart takes home the trophy for TV movie.
9:45: Ricky Gervais sulks for a minute about all Jim Parsons' wins before handing outstanding writing for a variety special to Sarah Silverman, for We Are Miracles. I spent her acceptance speech genuinely concerned about the strength of the tape holding her dress to her bust. "We're all just made of molecule and we're hurling through space right now." Guess that vape pen wasn't just a prop for the sake of the CLUTCH CAM!
Also, in case you're wondering why the hell Fargo is a miniseries and OITNB is a comedy and etcetera, Vox has an explainer of the bonkers nominations process.
9:51: Key and Peele! They introduced the accountants from Ernest and Young.
9:53: Chris Hardwick took the time to explain the difference between your and you're to Internet trolls. Not a new bit and, more importantly, throwing your pearls before swine, here. Best variety special directing goes to Glenn Weiss for the 66th annual Tony awards, accepting from backstage.
9:58: Best variety series goes to The Colbert Report. Jimmy Fallon (?) pops up to deliver an acceptance speech whispered into his ear by Colbert.
10:04: Emmys honcho gets Sofia Vergara to stand on a spinning platform. Because apparently this is the used Chevy dealership out Riverside Drive, circa 1986. Innovative, fellas.
10:06: Doctor Watson a.k.a. Lucy Liu hands the supporting actor award to Aaron Paul for Breaking Bad. Sad I won't get a chance to use this amazing piece of Internet art:
10:11: Oh Jesus, get your tissues. It's the memorial tribute, set to "Smile." Time to cry for James Garner but actually cry for your granddad who totally loved Maverick. Billy Crystal did good with his tribute to Robin Williams, but some odd choices of clips.
10:25: You know what, I'm big enough to admit it. I laugh-snorted at that Missing Parsons joke. True Detective's Cary Fukunaga bags the award for director in a drama (but really we all win, because we learned that his first Hollywood job was working the Destiny's Child video "Survivor"). Anna Gunn (the much hated-upon Skyler White) wins supporting actress for Breaking Bad.
10:34: WELL, WELL, WELL, look who's come crawling back to television.
Katherine Heigel appears to introduce PAPA POPE to hand out the award for writing in a drama series. It goes to Moira Walley-Beckett, for Breaking Bad. Then Viola Davis looks lovely in blue announcing the lead actress in a drama winner: Julianna Margulies for The Good Wife, who opens with the good news: "What a wonderful time for women on TV."
10:45: I bet Julia Roberts just loved that intro. That sparkle dress looks lovely but I bet it's murder on the back of her thighs after sitting for a couple hours. And outstanding actor in a drama series goes to: Bryan Cranston. Internet backlash averted. 'Stache expresses his gratitude at this lovely life he has, despite the fact that as a kid he loved shortcuts so much, "My own family nicknamed me Sneaky Pete. My own family."
10:51: A bored-looking Jay Leno delivers the Emmy for comedy series unto Modern Family. Shocker. What an upset.
10:56: And the Emmy for outstanding drama goes to Breaking Bad. The last words of the Emmys broadcast: "Only four days until the weekend!" Never, ever, ever, ever put this awards show on a Monday night again.
Photos via Getty