From anatomically impossible appendages, to hovering hands, to skin as smooth as a Botoxed forehead, this year presented us with a not-so-little shop of digitally enhanced horrors.
Ana Gasteyer Satirizes the Girl Boss in 'American Auto'


Behold! Beyonce, ScarJo, Clive Owen, and their many celebrity friends go under the pointer, with terrifying results.


Jessica Simpson: Waist Not, Want Not

G/O Media may get a commission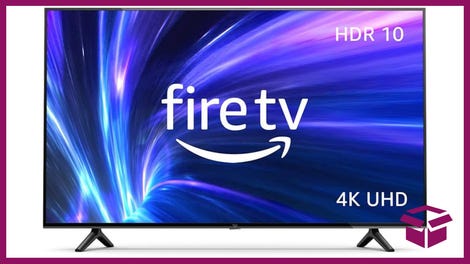 42% Off
Amazon Fire TV 50" 4K Smart TV
Much like Frankenstin's monster, Jessica Simpson is all misshapen, sewn together limbs on the September cover of Elle.


Marie Claire Editors' Revealing Reflections

We know the editors of the international edition of Marie Claire are more accustomed to being the photoshoppers than the photoshopees, but they should have known to check the reflection in the glass conference room table. Your unsightly (i.e. perfectly normal, human) faces are showing!


Jessica Alba: Whittled in the Name of Liquor

2008 was a big year for Jessica Alba. She lost all her baby weight! (Also, had a beautiful, healthy baby girl.) But everyone knows women with hips capable of birthing babies are not capable of shilling a fine liquor like Campari.


Britney Takes the "Circus" Theme a Step Too Far

Was the artwork for Britney's single "Womanizer" inspired by a fun house mirror?



Rumer Willis's Missing Hand, Jaw Bone

Apparently Walmart thought Rumer Willis would be the perfect celebrity for their ad campaign, as long as she got an entirely different face and lost that unnecessary right hand.


Scarlett Johansson Goes From "Curvy" To "Cartoonish"

Was Scarlett's waist Photoshopped for the August cover of Cosmopolitan, or are corsets coming back in style?


Kimora Lee Simmons Discovers the Fountain of Youth

Whoa! Kimora Lee Simmon's new fragrance Fabulosity will magically sculpt your arms and make you look 10 years younger! (Warning: May cause minor limb deformities.)


Lily Allen's Photoshop Makeover

Running low on cash? Why not ask these British mags to photoshop you a new lipstick color, or better yet an entirely new dress and body, like they did for Lily Allen?


Olympians Have Got Milk, Extra Hand

A phantom athlete lends a hand to the U.S. Olympic team in this ad for milk.


Is L'Oreal Guilty of Whitewashing?

Beyonce's skin looks unusually pale in this L'Oreal ad. Unless of course, you're reading Essence.
Even dudes were not safe from the wrath of Photoshop in 2008!