It looks like Saturday Night Live will be adding two new women to the cast this season, Brooklyn comic Jenny Slate (left) and L.A. Upright Citizen Nasim Pedrad.
NBC hasn't confirmed or denied the news yet, but The Comic's Comic announced it yesterday, based on the assurances of "knowledgable folk," and Rachel Sklar, writing at Mediaite, says, "in our experience, SNL official releases tend to lag quite a bit behind comedy-circle gossip."
Sklar notes that the addition of Slate and Pedrad "brings the [male to female] ratio to 4:3 – perhaps the best for women in SNL's 35-year history," which is exciting, indeed.* Two new women, two years in a row? It's almost like someone finally convinced the powers that be that women are funny, not just a necessary evil. (The people behind this year's New York Comedy Festival are apparently still working through their thoughts on the matter.) And those someones, it's safe to assume, were Tina Fey and Amy Poehler. Following their departure, writes Sklar, "Kristen Wiig took the mantle of female MVP, clocking by far the most screen time of any cast member last season," which also sounds like progress — until you click over to the source of that statistic and read the fine print: Michaela Watkins, Abby Elliott, and Amy Poehler all worked only a partial season, so the only other woman who was there the whole time was Casey Wilson. Who got less screen time than every man on the show except Seth Myers, who only does Weekend Update, and Darrell Hammond, who's been there for 105 years, had a recurring role on Damages as well, and is rumored to be leaving SNL this year. The only other people on screen less than Wilson? Watkins, Elliott, and Poehler. With all due respect to Wiig's fabulousness, it's not that hard to be the most visible person on the show when you're the only fucking woman they're using.
I probably shouldn't be so curmudgeonly, but I'm old enough — about exactly as old as SNL, actually — that I've been reading about the exciting new additions to the SNL cast for over two decades, and it really doesn't seem like much has changed. The cycle goes: 1) Hey look, a new woman! (And/or, hey look, a new person of color!**) 2) Hey look, the new women (and/or POC) are constantly marginalized. But maybe that's just because they're new? When they have more seniority, it will balance out...? 3) Hey look, SNL is still fundamentally a pale-skinned sausagefest! Come on, SNL, we know you can do better! 4) Hey look, a new woman and/or person of color! Now things are gonna get better!
So I'm cautiously optimistic about the estrogen increase at best. On the upside, everyone writing about Pedrad and Slate seems to think they're both hilarious. That's change I can believe in.
G/O Media may get a commission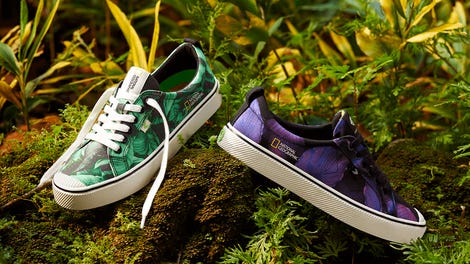 New New New
Cariuma + National Geographic
*A Mediaite commenter points out that season 5, which featured a 50/50 split in the repertory cast — Jane Curtin, Gilda Radner, Laraine Newman, Bill Murray, Garrett Morris and Harry Shearer — was even better. Except for how the rest of the cast was made up of 9 men.
**I am psyched about the fact that Pedrad is, as far as I know, the first Iranian-American cast member they've ever had. But I also can't help noticing that a whole lot of the POC they've hired in the last 10 years have read white or close to it.
New Blood At SNL: Jenny Slate and Nasim Pedrad Up The Chick Quotient As Latest Cast Members [Mediaite]
Saturday Night Live Hires! Jenny Slate and Nasim Pedrad Join The SNL cast [The Comic's Comic]
SNL Season 34: By The Numbers [New York Magazine]