Strange things are afoot in the Sky Mall catalog! Check out lasers, kitty spaceships and sneakers that will make you "look like a million dollars" in a gallery, beginning below.
1. Hair Max Laser Comb
For: Your uncle with the receding hairline?
Because if there's one thing that can solve any problem on earth, it's lasers. Everyone knows that. This thing has NINE lasers, for nine times the pain efficiency! The $495 price tag is a drawback; you'd better have a lot of cousins who want to chip in.
2. Break-resistant Wine Glasses
For: Your Aunt Alkie?
Thanksgiving will be less embarrassing! But be warned: Auntie may experience a major drop in productivity, and you may have to drive her home.
G/O Media may get a commission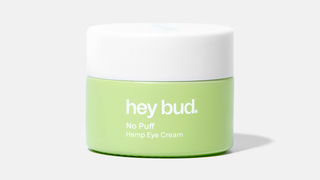 15% off
Hey Bud - No Puff Hemp Eye Cream
3. X5 Hair Laser or Toppik
For: Your other Uncle with the receding hairline?
Notice how the dead forest of hair becomes a thicket? It's magic! And the spray-on hair is better than that toupee.
4. G Defy Sneakers
For: Your friend who just had a baby?
More energy, pain relief, etc. And the little sperm logo is just adorbs.
5. Remote-Controlled Tarantula
For: Your Goth niece?
The black widow will help her on her mission to frighten her parents in brand new ways.
6. Stainless Steel Wallet
For: Your tightwad brother?
He's obsessed with counting every cent, and he doesn't even know about radio-frequency hacking. Encourage — and manage — his paranoia.
7. Slanket
For: Yourself
Yeah, it's sooo 2008. Call me when you're cold and typing and wishing your blanket had sleeves.
8. Digital Notepad
For: Your BFF who's getting married?
She can scribble notes about seating charts, her gown and flower arrangements and then email them to a batch of people, 9 out of 10 of whom will hit "delete."
9. Forest Faces
For: Your own lawn. Sure, they're horrifying — and thus, they keep the neighborhood kids living in fear, far from your property.
10. Rock Lamp
For: Your sister who longs to be one with the earth and also smokes a lot of pot. The flame looks so cool when you're stoned.
11. CoverTiques
For: Your coworker who's always showing waaaay too much cleavage. Just leave it on her chair, with a note from "Secret Santa."
12. Litter Robot
For: The crazy cat lady in your life; bonus if she's a sci-fi fan. Kitty's going into space!
13. Peanuts Nativity
For: The aging hippie in your life, who'll think it's funny that Woodstock is the baby Jesus.
14. Head Spa Massager
For: Anyone you want to see looking like a fool.
15. King Tut Lifesize Sarcophagus Cabinet
For: Your mummy. Obvs.
16. The Inspirers Collection™ Portraits
For: Black people. Seriously, they should call this "stuff black people like." My Great Uncle Julius would move his Roots mural and hang these over his couch if he were still alive.
17. Happy Feet
For: Your Jimmy Choo-obsessed friend. Dare her to wear them out of the house.
18. Warm Whiskers Neck Wrap
For: Your nephew who wants to be Gunther Gable or either Siegfried or Roy when he grows up. Throw in something sequined; he'll thank you later.
No presents here… It's just that sometimes, we post a Photoshop Of Horrors and someone will ask, "why don't they just use illustrations?" Here's your answer: Some companies do! The results are terrifying.
Last, but not least:
19. No! No!
For: Honestly, I'm not sure who could benefit. But I do think it's interesting that the girly pink one costs $30 more than the manly red one.
Earlier: 8 Products From SkyMall You Can Use To Kill Someone
SkyMall: Shopping The Friendly Skies For Pointless Products
More SkyMall: The Mile-High Commerce Club