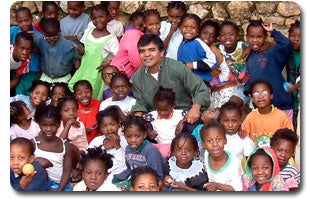 We can't decide if 'super papa' Jurgen Hass is a saint, a madman or a creep.
"Spanish is not Jürgen Hass's strong point. But he has his ice-breaker almost down to a T. "Estoy loco, soy alckolico y impotente," ("I'm crazy, an alcoholic and impotent") he scribbles on a piece of paper in dodgy Spanish. In the shantytowns of Paraguay, he says, it is the first line he uses when trying to convince women to let him father their children.

It works. Hass, 56, does not have sex with the women he meets, but he is now legally father to 350 boys and girls from three continents, and aiming to make it 1,000. Because he is German, the children he recognises automatically gain rights to child benefits and citizenship in his homeland. It is a form of social work, he says, a crusade to rescue youngsters from the developing world from poverty. The Paraguayan media have dubbed him "Superpapá".
Forget Paraguay, we should book him on the Maury show. He could claim fatherhood for all those 13-year-old girls who turn up six episodes in a row, burning through 30 different candidates for their babydaddy. As the last paternally exonerated statutory rapist is led cheering from the stage, we wheel out Jurgen, make the baby a German and everyone's happy.