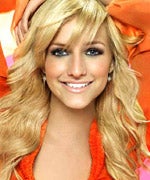 Timing is a bitch.
In the new Marie Claire, Ashlee Simpson has a message for young girls everywhere.
"Simpson is well aware of the barrage of negative body images that all girls see, and she's eager to counteract that negativity. 'Everyone is made differently, and that's what makes us beautiful and unique. I want girls to look in the mirror and feel confident.'"
Unless they have a great big beaky nose, in which case they should get a nose job pronto, just like dear old Ashlee.