Blake Shelton and Gwen Stefani—a couple as natural and authentic as the pair of tits I plan on buying at 40—are busy promoting their fake relationship new duet "Go Ahead and Break My Heart" at various award shows—but are they also paying Instagram influencers to promote the love of "Gwake" on social media?

Over at The Cut, our pal Allie Jones noticed a weird pattern among the D list glitterati.
Here's an Instagram posted by Becca from The Bachelor:
And here's an eerily similar Instagram posted by Stephanie Pratt:
G/O Media may get a commission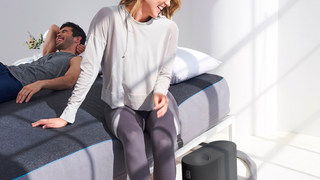 Eight Sleep Pod Cover
Jones writes:
Coincidence? It's possible that Becca Tilley and Stephanie Pratt, strangers to each other and again, to Gwen Stefani and Blake Shelton, have the same "new fave couple." The inclusion of the same, specific link to the performance in each post, however, suggests that the posts were coordinated in some way.

But by whom? And why? There are several brands mentioned in each post: Honda, I Heart Radio, Blake Shelton, Gwen Stefani, the relationship of Blake Shelton and Gwen Stefani. Any of these parties and/or their representatives could be responsible for convincing Instagram influencers Becca Tilley and Stephanie Pratt to post about Gwen and Blake. The message of the (potential) ads is clear, though: Gwen Stefani and Blake Shelton are baes and goals and heart eyes! Click here, millennials.
A Gwen/Blake rep has yet to respond to Jones' article, but I wouldn't put anything past this pair of demons.
---
At least one person had a (lukewarm) appreciation for Madonna's Prince tribute. And THAT's the way it is.
---
Okay, two people (if we're including Madonna).
---
---
Image via Getty.