Sometimes when I'm watching movies or on TV shows, a character appears wearing something that makes my eyes pop and lust rage in my heart, and all I can think is: Want. Got to have it. Now.
Here are 13 items (not all of them are outfits, some are accessories, but whatever) I wish I could reach inside the screen and steal.
13. The shimmery number on Hedy Lamarr in My Favorite Spy. This dress is magic. MAGIC I TELL YOU. Look at it sparkle. Look at her move. Be dazzled. (Obviously I need alllllll the jewelry as well.)
12. The pretty, perfect, peachy pink dress Liesl wore while dancing in the greenhouse with Rolf in The Sound of Music. She was 16 going on 17 and that skirt was romantic, swishy, fluid and fabulous. Too bad dude was a Nazi.
G/O Media may get a commission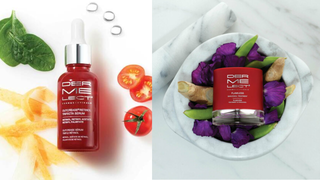 Save $19
Retinol Renewal Kit
11. The punky studded booties Madonna rocked in Desperately Seeking Susan. Dirty glam and perfect for strolling down the street humming "Get Into The Groove."
10. The dreamy ball gown Jennifer Connolly — as Sarah — wore to dance with Jareth/David Bowie in Labyrinth. It's crazy puffy and floofy and dated, but has the right kind of drama for a fantasy dream sequence/dinner in an enchanted garden/lunch at the hot dog stand. Don't forget the silvery hair ribbons!
9. The chic little black veil as worn by Dynasty's Alexis Carrington-Colby. Just a light shield to protect yourself from the riff raff, darling. Alexis is extremely aspirational on so many levels, I just want to write a whole book on her clothes and quips. I will take some Dominique steez as well.
8. Kelly Kapowski's floral jeans from Saved By The Bell. These would look great right now with a white tee and some yellow PF Flyers.
7. Tina Turner's chain mail mini dress from Mad Max: Beyond Thunderdome. Not for the faint of heart but you'd be slaying it on the dancefloor — just add stilettos and a shot of tequila.
6. All of Olivia Pope's creamy coats. Impractical? Begging for coffee stains? Maybe. But dammit if it wouldn't be worth trying, just for the chance to say "it's handled" with the utmost confidence.
5. Liz Taylor's lace-trimmed slip — as seen in Cat on a Hot Tin Roof or Butterfield 8. For feeling sensuous when lounging around the house, a delicate slip beats sweatpants every time. Meow. I have one in black but not in creamy dreamy ivory.
4. Pretty much everything on Diana Ross in Mahogany.
3. Dorothy Dandridge's off-the-shoulder blouse and pencil skirt from Carmen Jones. Si, señorita, I'll take young Harry as well.
2. Holly Golightly's oversized sunglasses in Breakfast at Tiffany's. I'm all for wearing sunglasses inside if the tint is light enough. Fuck it. Don't look at me. Or look at me if you want but don't see me looking at you. Giant frames just feel protective, whether or not you've got the mean reds. (I'll also take the sleep mask, thanks.)
1. Dorothy's Ruby Slippers from The Wizard of Oz. Sparkly, magic, highly coveted. Because just the right shoes can change your life, right?
I would also like to give a special shout-out to all of Mrs. Roper's caftans on Three's Company — I have purchased so many, thanks to her.
Okay — your turn. Post photos of TV/movie clothes you want to steal, please!
Images via Charmin Carr, NBC, TriStar Pictures, Aaron Spelling Productions, Warner Bros., ABC, Paramount Pictures, MGM.