Christmas is here! Well, not here. But in mailboxes: The new Bronner's catalog has arrived, and some of the ornaments inside really embody the meaning of the holiday. If the holiday is about hanging strange things on a dead evergreen.
Let's just say you're a kid, learning about religion, what B.C. means, and the birth of the baby Jesus and stuff. And maybe you learn that Santa Claus is based on Saint Nicolas and Kris Kringle, and that the modern image of Santa — as a jolly man in red — first became popular in 1881. Does Santa leaning over the baby Jesus in a manger make sense to you?
Nothing says "Christmastime" or "Winter Wonderland" like a disembodied alien head. O come all ye faithful!
G/O Media may get a commission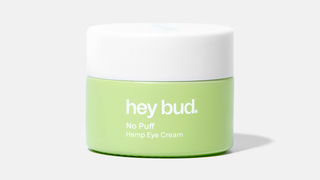 15% off
Hey Bud - No Puff Hemp Eye Cream
This is when you know your love of TV has gone a tad too far. Surgically remove yourself from the couch and go outside.
We've previously discussed the pizza and the Coke cans: I'll admit that N. — the Coca-Cola cup — is pretty cool. I have no problem with the mushroom, since they do grow on trees, but the tomato? No comprende.
Everyone knows that when he's not passing out toys for girls and boys, Santa lives below a rainbow outside of Dublin, guarding his pot of gold.
Certain foods seem right for Christmas: Gingerbread, sugar cookies… fortune cookies, SUSHI. Who doesn't want fake raw fish rolls? On a tree? Man, this stuff is so weird, it's enough to drive you to drink.
Luckily, they've got booze, too! Now if they'd just make a gin and tonic ornament…
Earlier: 9 Really Weird Christmas Ornaments From Bronner's
9 More Weird Christmas Ornaments From Bronner's
October At J. Crew: Pretty, Preppy, Preposterous
Free People: Winning Us Over With Cute, Cuddly Critters
Urban Outfitters: Does This Make My Ass Look Wack?
Related: All "Today In Catalogs" posts