In this week's TV roundup, things are still bad between everyone's favorite couple Troy and Abed, Simon Pegg is trolling his Twitter followers, Smash demonstrates that it doesn't always get better and Aziz Ansari talks about hanging out with the president.
---
1.) What would Glee be like if everyone was 15 years older and even more frantic?
It would be Smash and it would be sad.
---
2.) Aziz Ansari met President Obama and still can't get his dad to care.
To be fair, the president does have more Twitter followers.
G/O Media may get a commission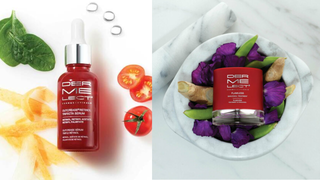 Save $19
Retinol Renewal Kit
---
3.) The rift between Troy and Abed is growing.
I don't know what to do. MY WHOLE BRAIN IS CRYING.
---
4.) Shaq carries Jon Stewart like Stewart was a teeny tiny baby..
KAZAAM!
---
5.) Casey Wilson comes up with her own Real Housewives tagline on Watch What Happens Live.
Coming up with a RH tagline seems to have become de rigueur, but that doesn't mean that Wilson's isn't particularly good.
---
6.) Happy Endings channels Three's Company.
Classic Janet.
---
7.) Tracy Morgan goes on Letterman.
And acts very Tracy Morgan-y.
---
8.) Kristen Schaal's crazy continues to light up 30 Rock.
Did you know that there was a crotch jackpot?
---
9.) Josh Hutcherson has some very aggressive, very young fans.
Which do you like better? "Peeniss" or "Kat Pee?"
---
10.) Simon Pegg finds brilliant ways to mess with his dimmest Twitter followers.
Speaking of Josh, have you heard of Hungry Games?
---