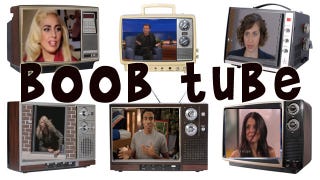 In this week's TV roundup, Troy and Abed are on the rocks, Ewan McGregor wants Louie CK to put his money where his mouth is, Lady Gaga talks kids and Bethenny Frankel shows off a little more than she bargains for.
---
1.) Ewan McGregor might try to blow Louie CK at some point.
In an old stand-up special, Louie CK remarked that Ewan McGregor is the only guy he feels legitimately gay for—gay enough that he's let McGregor give him a real gay blowie. Now, Ewan's asking if it was all just talk.
---
2.) Community's number one romance might be in jeopardy.
Not cool. Not cool cool cool.
---
3.) Jennifer Lawrence and Jimmy Fallon play a little non-traditional basketball.
Not the Shamrock Shake! Do you know how rarely you can get those?!
---
4.) Speaking of JLaw, Kristen Bell is very obsessed with The Hunger Games.
And she is gunning for the role of Johanna Mason.
---
5.) What do you ask a 25-year old pop star at the height of her career?
DUH. You ask if she wants babiezzzzzz.
---
6.) Will Ferrell's brother Terri refuses to leave The Gilmore Girls set.
Terri Ferrell brings the term "squatting" to a whole new level.
---
7.) Homo Slo-Mo.
Cooling down is one of the most important parts of working out.
---
8.) Bethenny Frankel has a wardrobe malfunction on Anderson.
I love when Anderson Cooper gets the giggles.
---
9.) Celebrities read mean tweets about themselves on Kimmel.
HAHAHA. Humility, you guys.
---
10.) Liz Lemon will be Kristen Schaal's mentor on 30 Rock.
Ugh, the male gaze.
---