In this week's compilation of pop culture crap, women play football in lingerie, celebrities exercise during interviews, and we take a look at some of the companies that advertise during Jersey Shore.


1.) Celebrities exercising.
There was this really weird trend this week in which celebrities exercised during their talk show interviews. At first I thought that there was some sort of initiative going on to raise awareness for something (like health?), but instead of wearing colored ribbons during award shows, they were instead working out while promoting their own projects. But I think it was just a lazy joke regarding New Year's resolutions.
Jim Carrey did it on Late Night.




Seth Rogen did it on Today with Kathie Lee and Hoda.

G/O Media may get a commission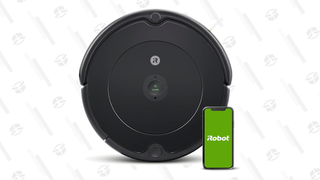 35% Off Black Friday Deal
iRobot Roomba 694 Robot Vacuum



2.) But the cutest, by far, was Ryan Gosling on Ellen.




3.) The Slomin Shield bitch.
What's her fucking problem, anyway? It's not like her house got robbed.




4.) Jeff Lewis antagonizes Kim Zolciak all night long on NYE.
Speaking of bitches…There was so much going on on the tiny Watch What Happens set on NYE that it just felt like watching a hamster cage filled with wigs, attention whores, regular whores, and drunks. The best though was the recurring theme of Jeff Lewis giving Kim Zolciak shit all night, and watching her react without a drop of a sense of humor. Included here are two highlights: One in which she freaks out at his insinuation that she's been smoking while pregnant, and another in which he congratulates her for having a child out of wedlock.




5.) 16 & Pregnant: Where Are They Now?
Answer: In jail, which the baby mama actually likes, because she feels that's the best way to keep tabs on her loser of a boyfriend. "I can always know where he is."




6.) The Campaign for Nursing's Future.
The soulful "You're a nurse" song is beautiful and moving.




7.) Lingerie football.
Being that is its eighth season, and the franchise has proven itself to be successful, you'd think that the girls involved would've advocated for better costumes uniforms. Why are they wearing garters if they aren't even attached to anything? This is one instance in which Judge Judy's "If it doesn't make sense, it's not true" wisdom is wrong.




8.) The new Mama Lucia commercial.
The little boy at the end looks appropriately disgusted. Also, his grandfather is a pig.




9.) The sponsors of Jersey Shore.




P.S. Ronnie kind of sucks at talking.
10.) This.