Many weeks, we come across stupid stuff on TV that might fall through the cracks. In Mixed Bag, we collect those odds and ends, for a multimedia compilation of pop culture crap.




1.) Mary Hart's Sling








The stylist at Entertainment Tonight has been matching Mary's sling to her outfits, with bedazzled trim to boot.


G/O Media may get a commission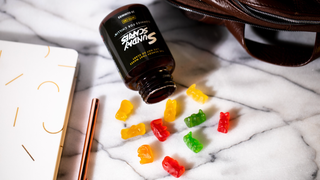 10mg CBD Gummies (22-Count)
2.) Janice Dickinson








I am loving that this woman is on television for four hours a week right now. Especially because a lot of it is live! Last night, while it was being announced that her nemesis Daniel Baldwin had been voted off I'm a Celebrity…, Janice hijacked the live broadcast and began screaming, "Vote no on prop 8!"
She's unhinged, but also kinda smart. She was screaming Perez Hilton's name, as well. Lo and behold, she got some positive press from him today.
Daniel Baldwin kept criticizing Janice for not doing work around the camp and sucking at the challenges. But he also spent his interview time puffing his chest and talking passionately about how he knows this is a game and he's here to win. But the public votes people out, and he didn't take that into account—or try to appeal to the viewers—with all of his "strategies."
3.) Reality TV Genius?

Janice appealed to the public (or at least to me) when she pissed and drip dried on television.


She just knows her reality TV. She knows that stealing granola bars has been proven to yield camera time.
4.) Or Crazy Old Lady in the Jungle?

But it's not all strategy with Janice. Some behavior can genuinely be chalked up to "senior moments," like wandering, or hovering, and particularly a combination of both.





5.) "So elegant and everything."

A Jewish grandmother had some kind of Vice Versa, Freaky Friday, Like Father Like Son, 18 Again!, 17 Again-type moment with a 6-year-old little girl. Wanting to make the best of her time in this young body, she threw on her best visor and went to the zoo to see some snow leopards. A camera crew from NY 1 was there, and got her take on the animals.
6.) Kendra

You have to see it. You'll feel stoned and confused and unsure of your surroundings. Like when I went to Amsterdam. So watching Kendra is like going to Amsterdam in your brain. It's a brain vacation. Fly away on a brain vacation with Kendra. Come for the music…





…but stay for the shopping.





7.) But stay out of the red light district.


8.) LuLu On Larry King Live





9.) The "ET Exclusive" On Lydia Hearst





10.) "It's just rude. And it's tacky and annoying."