On March 12, 1912, eighteen girls from Savannah, Georgia gathered for what would be the first meeting of Girl Scouts. One hundred years later, the small organization founded by Juliette Low has included more than 50 million girls and women, sold hundreds of millions of boxes of cookies, and given us some incredibly badass moments.
Pearls for Girls
The Scouts' founder, Juliette Gordon Low, initially paid for her big idea herself, eventually selling off her fancy pearl jewelry to finance the club, which was initially called the Girl Guides.
Inclusion for the disabled
The Girl Scouts were one of the first organizations to welcome disabled girls to troops, doing so within the first decade of their existence. In the 1936, the first national meeting for disabled Girl Guides and Girl Scouts was held in London.
Continually impressive and timely badges
During the first decade of the club's existence, girls could earn a badge called "Child Nurse." In the 1920's, they could earn Economist and Interpreter badges. By the 1980's, girls could pursue badges in Aerospace, Computer Fun, and Business Wise. Up next, Ninja? Moon colonizing? Internet takedown issuance?
The Mariners and the Wing Scouts
In a time when girls were often discouraged from pursuing "boyish" activities, Girl Scouts were encouraged to go outside and learn to be self-sufficient. Programs like The Mariners and Wing Scouts taught girls marine survival skills and prepared girls who wanted to learn to fly airplanes, respectively. During WWII, girls were taught air raid survival skills.
G/O Media may get a commission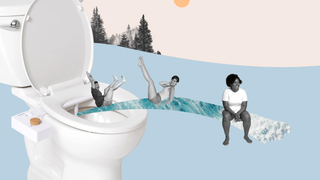 17% off
Tushy 3.0 Warm Water Spa Bidet Attachment
Girl Scouts Beyond Bars and Girl Scouting in Detention Centers
The Scouts are leaders in reaching out to girls from all walks of life and backgrounds — including girls whose mothers have been incarcerated and girls who are currently adjudicated, are wards of the court, or are court-referred delinquents.
Desegregation
In accordance with local and state laws, many early Girl Scout troops were segregated, but that didn't keep the organization to reaching out to non-white girls. A troop for black girls was founded in 1917; in 1921, a troop for American Indian girls was formed in New York, and in 1922, a troop for Mexican-American girls formed in Houston, Texas. Martin Luther King, Jr. credited the Girl Scouts with helping take the lead in a national push to desegregate many institutions in the mid-1950's, encouraging interracial friendships by hosting young women of all races at desegregated summer camps.
Transgender child included in Girl Scout activities
After 7-year-old transgender girl Bobby Montoya was initially denied admittance to her local Colorado chapter by a troop leader, the organization clarified that she must be allowed to join. In a statement, they said, "We accept all girls in kindergarten through 12th grade as members. If a child identifies as a girl and the child's family presents her as a girl, Girl Scouts of Colorado welcomes her as a Girl Scout."
'Under God' optional
In 1992, Scout leaders determined that girls who didn't believe in a monotheistic God shouldn't be compelled to promise to "serve God" during the oft-recited Girl Scout Pledge. They're allowed to replace the word "God" with whatever word they see fit — humanity, if they so choose. Or, if my brain were in an 8-year-old Girl Scout's body, "Zuul."
The Girl Scouts are a badass machine
Among the alumni of the Girl Scouts: Senator Patty Murray, Hillary Rodham Clinton, Nancy Reagan, Madeleine Albright, Condoleezza Rice, Sandra Day O'Connor, Lucille Ball, Jackie Joyner-Kersee, Gloria Steinem, and Dionne Warwick.
America's biggest douchebags can't stand 'em... and that makes them all the more likeable.
Various jerks have called for boycotts of the Girl Scouts over individual chapters' alleged affiliation with Planned Parenthood and paranoid insistance that they're not-so-secretly pushing a socialist hippie dippie agenda. A church in Virginia famously barred Girl Scouts from holding meetings there on the grounds that they were secretly giving out Junior Abortionist badges or some other such right wing scare fairy tale. In response to a pending resolution that would have honored the 100th anniversary in the state of Indiana, Rep. Bob Morris informed his colleagues via hilarious letter that, based on some "internet research," he'd concluded that those Girl Scouts were up to no good. But thankfully, anti GSA bullshittery lends itself well to rebuttal. In response to Marshall's letter, Republican Speaker of the Indiana House Brian Bosma bought 278 boxes of Thin Mints and spent the next day eating them while presiding over the legislature, occasionally offering cookies to his colleagues.
The Girl Scouts have more activities in store to celebrate their big one oh oh, not the least of which is a giant sing-along on the National Mall on June 9. All Scouts and friends of Scouts are invited to attend, and I've got half a yen to go myself. It will be like listening to the radio at the world's largest roller rink birthday party.