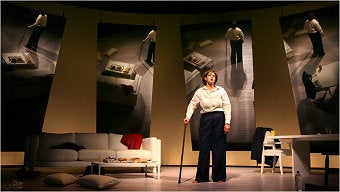 Anna Deavere Smith is described as a "woman of many faces," a performer who takes on issues singlehanded - albeit in a Tracy-Ullman style blitz of wholly different personalities. Now she's gunning for healthcare.
For those unfamiliar with Smith's work, she was the force behind "Fires in the Mirror," which dealt with the Crown Heights riots from a variety of fully-realized viewpoints, and the equally charged "Twilight: Los Angeles, 1992" which gave the Smith treatment to the Rodney King riots. Health-care, obviously, is another kettle of fish altogether, and it'll be interesting to see how she pulls it together.
The format's the same. In "Let Me Down Easy", Smith gives voice to everyone from a rodeo rider to Lance Armstrong, all based on interviews the author-actress conducted. It's no longer a novel format, although it was when Smith started writing and performing. And she's a gifted performer, as anyone who's seen her many manifestations knows well.
So, does she make sense of the morass of healthcare debates? Well, no. And of her success, the Times' reviewer seems undecided. Of the finish, he concludes,
Intentionally or not, "Let Me Down Easy" seems to have several endings. Mr. Siegel could have sent us out on a mordantly funny note. The minister at the Memorial Church of Harvard, offering his views on the importance of accepting the fact of death ("Cherish the moment"), also seems a natural climax. His monologue is followed by a still more moving one from the director of an orphanage in South Africa, recalling the words she used to comfort an adolescent girl dying of AIDS.
In other words, it's death - what can you say? And, at the end of the day, that's what the health-care debate is about too: death weighed against life, the value of it, postponing it, our collective fear and experience. And showing the views of a lot of people's a pretty good illustration of the debate's underlying problems. Are there answers in there? Sure, but probably not just one. And I'm guessing that's what Deveare, as usual, is going for.

Woman Of 1,000 Faces Considers the Body [NY Times]

Anna Deavere Smith Is Back With 'Let Me Down Easy' [Newsday]