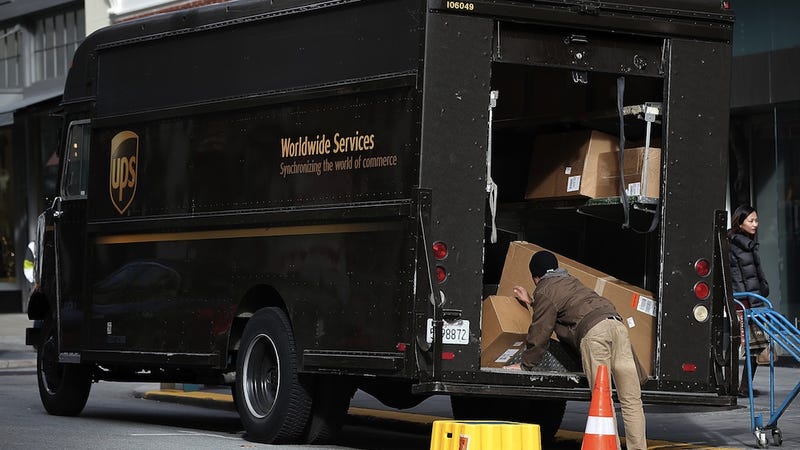 If you forgot someone on Christmas morning, good news: You've got a one-time pass, courtesy of UPS. According to the Wall Street Journal, eleventh-hour online orders swamped the company, and many packages didn't arrive by December 25th despite retailers' promises.
UPS is very very sorry and promises it was just a small percentage, but that doesn't change the fact that little Timmy didn't get his Furby, now does it?
Bad weather and a short shopping season exacerbated the situation, but a spokesperson admitted that, "The volume of air packages in the UPS system did exceed capacity as demand was much greater than our forecast." In other cases, retailers couldn't hand the packages over to UPS fast enough. And people are pissed:
I feel like one of those crazy people on black friday at walmart, that's how pissed I am about not getting my package. you're dumb @ups

— Parker Walter (@parkerwalter6) December 25, 2013
I should be reimbursed my money. Paid for Next Day Air (aka overnight) and my package is sitting 20 mi away. @UPS #UPS #pissed #ruinedxmas

— Scott (@ScottLaliberte1) December 26, 2013
Mailed out my gifts earlier than ever this year. My family didn't get them. #upsfail First time ever. Sigh.

— DrFran (@DrFran) December 26, 2013
Wow. Thanks @ups & @Amazon. Grandma didn't get her Christmas gift from her 3 year old grandson. #nothingunderthetree #grinch

— Donna Harris (@dharrisindc) December 25, 2013
It's certainly not the fault of the drivers, who've been working their asses off. One told the USA Today he made 337 stops on Monday, delivering 505 packages for the "worst Christmas ever" in the 27 years he's been working for the company.
Twisting the knife is that shoppers could have braved the local mall. As one person who found himself empty-handed on Christmas told the WSJ:
"I'm frustrated because these items could have easily been purchased at various retailers in my area, something I would have gladly done had Amazon not 'guaranteed' their arrival before Christmas," said Mr. Scott, of Ann Arbor, Mich.
Not to mention that there is literally nothing more aggravating than the pre-recorded messages on the UPS customer service helpline. WalMart and Amazon have both apologized and offered up gift cards, but nothing can make up for time spent yelling "Operator, operator, GODDAMMIT GIVE ME AN OPERATOR" into your parents' landline.
On the other hand, maybe try ordering earlier next year? It's not like Christmas is a surprise. Just a thought.
Image via Getty