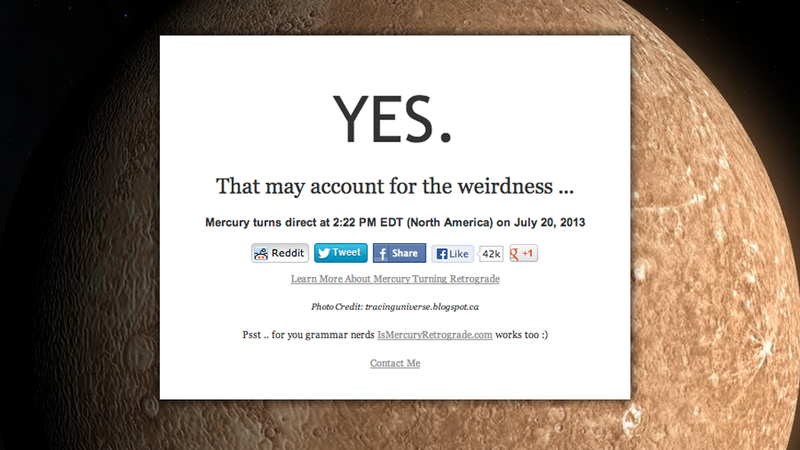 I showed up over an hour late to a doctor's appointment yesterday because I fucked up my Google Calendar alert — it pinged while I was working from home in a Pippin The Musical T-shirt with coconut oil on my split ends. But the most frustrating aspect of the screw-up was that I couldn't chalk it up to the planet Mercury, which didn't go into retrograde until this morning.
I'm not big on astrology, because I think I'm a special snowflake and don't see how the zillion other Virgos out there AND I could all really "get good news about your career on the first of the month!" or whatever. But I'm also super Type A (so Virgo, I know) and hate accidentally flaking on people or projects. Enter: Mercury in Retrograde, responsible for "communication breakdowns, delays, and frustration" and thus the perfect excuse for spacing out. Don't feel bad that your phone died/that email saved as a draft instead of sent/you double-booked your Friday! It's the fault of the smallest and closest planet to the sun! Here's a quick primer so you can embrace this special occasion, too.
What is Mercury in Retrograde?
Don't stress, doomsayers: Mercury is not really going backwards. According to our brother site i09, the name was conceived back when people still thought Earth was the center of the solar system; no planet actually moves backwards while orbiting around the sun. But, a few times a year, Mercury appears to be moving backwards in the sky for approximately three weeks.