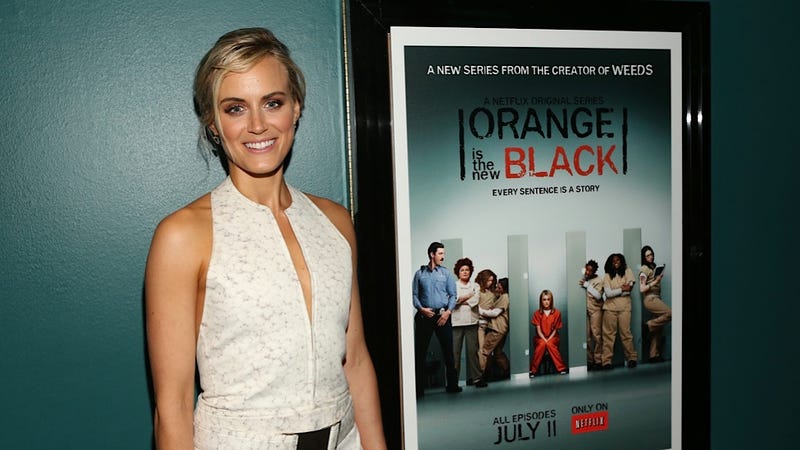 If you've already gorged yourself on Netflix's new mega-popular original series Orange Is the New Black, you know why the show has been the darling of TV critics for the last several weeks — it offers something a little different from even the well-produced cable drama, a format dominated by Tony Soprano antihero clones like Ray Donovan or Don Draper. Instead of Tortured White Dude with His Own Peculiar Moral Code, OITNB features a racially diverse ensemble of characters from different backgrounds, all with their own distinct hopes, fears, sexual frustrations, and, most unusually when it comes to female characters on TV, body types.
The problem, though, according to some of the show's more vocal critics, is that all of these characters must be filtered through Piper Chapman, the white protagonist who will experience the inevitable erosion of yuppie convictions that make her so wide-eyed and, according to the show's logic, uncorrupted by the sort of hard-living that makes many of the other prisoners so cynical and short-sighted.
The big thrill of OITNB is what we might call "the reveal" — that series of flashbacks explaining how a previously lurking character who's just about to become super relevant landed in prison. Aw, yoga lady seems so sweet, what with her Patti Mayonnaise voice and sinewy, sun-saluting limbs! What the hell is she doing in prison? Laverne seems to be a sensible enough woman — what vicissitudes of fate brought her to Litchfield?
These revelatory sequences are by far the show's most interesting moments, and though one may be tempted to think that the end justifies the means, i.e. that filtering all of these narratives through a nice white lady is just what showrunner Jenji Kohan had to do to tell stories about culturally marginalized women, The Nation's Aura Bogado isn't impressed with OITNB's dabblings in diversity. She argues (not unsuccessfully) that the show only feints at truly characterizing the non-white prisoners idling in Litchfield, while all the time making sure that Piper Chapman is having the sort of paradigm-shifting experience that will finally mold her into a complete and self-sustaining human person. In other words, this is still a show by, for, and about white people.