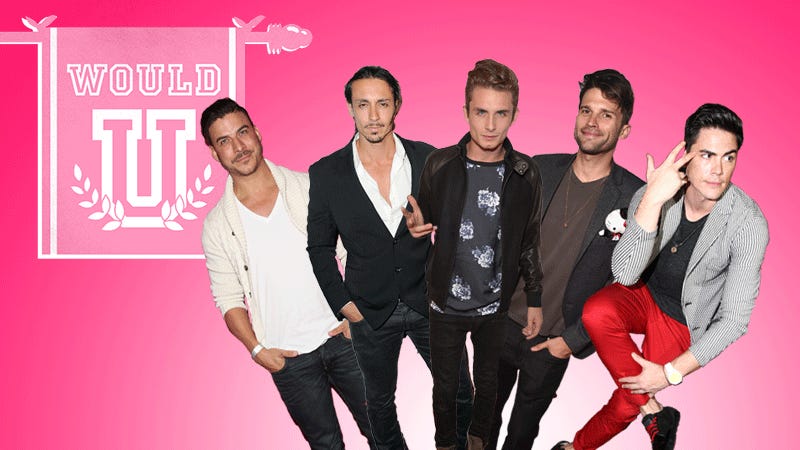 Welcome to Would U?, an academic forum in which I share my gross crush of the week and ask if you, too, would bang that person.

Vanderpump Rules is nearing the end of its 4th season, and exactly no one has evolved, unless you count Jax's neck, which has grown so thick as to threaten his entire head.

The show, which follows a group of 20-somethings (now mostly 30-somethings) working at Lisa Vanderpump's restaurant SUR, has always been a real douchefest—and the men, especially, are a thing to behold. A veritable hornet's nest of casual alcoholism and too-deep V's, they cheat on their girlfriends with abandon, straighten their hair, take "boys trips" to Las Vegas approximately once a quarter, and don a stunning combination of tank tops and chunky sweaters, which are occasionally ripped off in parking lots at 4 a.m. to provide better aerodynamics for fighting.
Would you have sex with any of them? Would you have sex with all of them? Bearing in mind that you don't technically have to think someone is a cool or good person in order to successfully do so? Let's take a closer look.
Jax Taylor
Shortly after getting arrested in Hawaii for stealing a pair of sunglasses (Jax is 36), Jax—who has had upwards of three nose jobs, impregnated a woman in Vegas and lied about it, and slept with his best friend's girlfriend multiple times—decided to buy his new girlfriend Brittany (who moved to LA from Kentucky after meeting him on Instagram) a set of bigger boobs. Below is an extremely disturbing video of Jax, possibly on bath salts, discussing his girlfriend's body:

On the most recent episode, he is seen alternately playing around with a set of implants in the doctor's office, pressuring Brittany to get double-D's, and fretting to the camera that buying his girlfriend plastic surgery might be more commitment than he can handle. "It's like when you get your pants altered—there's no returns," he explains.
(Another quick note on Jax: never in my life have I seen a person's horrible black heart actually dissolve their good looks from the inside out—subsisting on a steady diet of generalized hatred and various powdered substances, Jax has gone from this to this in the few short years we've known him. In the interest of making this decision at least somewhat difficult, you can have sex with the better-looking version of Jax.)
Tom Sandoval
"I'm a fucking badass fucking friend to all my friends," Tom Sandoval whines to his girlfriend Ariana on this week's episode. It's true—Sandoval is an okay friend, no small thing for this group. He also shaves his forehead, has absolutely ridiculous hair and clothes, is extremely emotional, thinks he's good at everything, isn't actually that good at anything, got one of the ugliest tattoos I've ever seen, and left his girlfriend to mourn her recently deceased father alone while he spent the weekend in Las Vegas with his friends.
Jezebel staffers seemed especially on-the-fence about this one:

Kate Dries: Sandoval is the most into personal grooming of all of them and it's too much.
Kate: I like that he's comfortable with his sexuality, though.
Madeleine Davies: The forehead shaving thing is for exfoliation though. Not a terrible idea. Caroline Manzo does it.
Madeleine: I think Sandoval has...kill me...a quality.
Clover: Maybe if he didn't talk at all.
Would you? Here's a better picture.
Max Todd
Max, Lisa Vanderpump's monosyllabic son, is a busser at SUR (which, I know nepotism is bad, but come on, Lisa. Let your son wait tables!). There's really not much to know about Max, except that he has a British accent and plays guitar sometimes, and also that he recently broke all of his teeth in a freak accident.
James Kennedy
James, a British busser/DJ at SUR with gigantic hair, behaves like a deranged hypersexual 7-year-old on a sugar high. James is usually drunk and recently spit on his ex-girlfriend's door; he also uses the word "sweetheart" exclusively as an insult and flaps his arms around so much that I'm shocked his tiny body has not taken flight. In real life, he can generally be found making out with someone on TMZ.
"I'm working on a Pump CD, it's basically 10 songs composed, written and produced by me. It's pretty much my greatest accomplishment," he boasted on last night's episode. "I don't mean to sound conceited, but I'm the white fucking Kanye West."