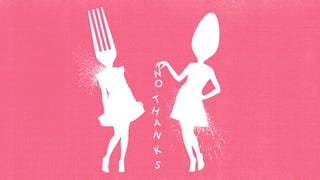 Yo, Ladies™! Huddle up. Grab a backwards chair. (Now turn it around and sit on it RIGHT, YOU SHAMELESS HUSSIES. Ladies™ don't straddle.) It's time for some serious LadyTalk™. If you're a Lady™, like me, you've definitely run into this problem: It's dinnertime. You're starving. You haven't eaten since your morning cup of spinach run-off, you're exhausted from changing tampons all day, your duodenum is chafing from riding sidesaddle all the way to Labial Zumba, and you're feeling fat because all your Diet Spanx were in the wash so you had to wear Spanx Classic. Gross. All you want to do is find a nice restaurant where you can exchange currency for sustenance, lady-style. Is that so much to Lady™-ask?
But what the shit is this!? A "steakhouse"!?!? What's all this brown stuff on the walls? "Wood"? What the fuck is "wood"? Where's all the pink? How am I supposed to enjoy my food when there's no catwalk? Where's your garnish menu? Who eats 8 ounces of meat in one sitting? How many decks of cards is that? What do you mean I can't pay in beads and trinkets and Lady Lovely-Locks hair clips? You're saying I have to "withdraw money" from my "checking account"? What do I look like—A GUY???
I need feminism because what is restaurant.
Fortunately, the market provides! Over the past couple of years, a number of lady-centric eateries have cropped up seeking to capitalize on female spending power. Because, you know, WE COULDN'T JUST GO TO REGULAR RESTAURANTS. RESTAURANTS ARE FOR MEN. EATING FOOD IN A ROOM IS GENDERED.
I can think of a couple of ways that the restaurant industry could make female patrons more comfortable. Not aggressively sexualizing their female waitstaffs, for instance. Not presumptuously handing the check to the male half of every couple. Not remarking on how much food a female patron orders (HAPPENED TO ME MORE THAN ONCE). Not giving large groups of men better tables and service because they're expected to give bigger tips. Prioritizing women's safety at meat-market Ladies' Nights, if you're not willing to scrap them entirely.