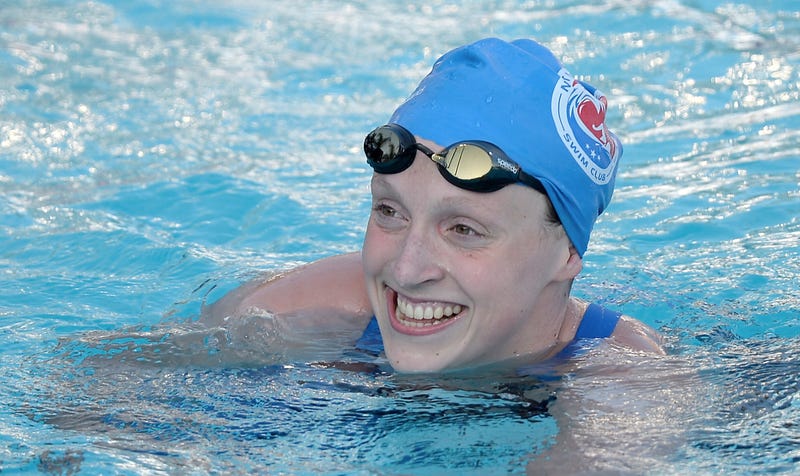 While the Olympics aren't fresh on the mind for some (not me; I actually never stop thinking about them), some recent particularly impressive distance swimming has prompted the question of why female swimmers competing in the Olympics swim 800 meters of freestyle instead of 1,500 meters, the way the men do.
The New York Times reports that the growing popularity of swimmer Katie Ledecky has drawn attention to the fact that women's swimming in some countries includes the 1500 but in other countries, it does not. Ledecky is on a roll right now; she's 17 years old and just broke the world record in the 400 freestyle at USA Swimming's long-course national championships this weekend. She also holds world records for the 800 and for the 1500, a record she broke in 2013. You might remember Katie from the London Olympics, when she almost set the world record in the 800 as a 15-year-old high school Sophomore, becoming the youngest to win that race at the Olympics. (She ended up grabbing the record at the World Championships the following year.)
Winning the 400 this weekend makes Ledecky a real powerhouse: she's now...
...the first woman since Janet Evans to simultaneously hold the world records in the 400, 800 and 1,500-meter freestyle events. She also becomes the only woman to currently hold three world marks. (Only Michael Phelps can boast the same on the men's side.)
Ledecky is expected to win her distance events at the 2016 Olympics. But one of them won't be the 1500, because the 1500 isn't an option; the men swim the 1500 and the women swim 800. In this day and age, it's an archaic exclusion, as Debbie Meyer, the first woman to hold records in the 400, 800 and 1,500 at the same time, told the Times:
"It really was all about the thinking then," Meyer said, "which was, women were the weaker sex and because men were stronger people, they could last the distance."

She added: "Definitely it gnaws at me a little bit more now than it did at the time I was competing. I wonder what the thinking is behind it now, why they don't have it in."
Part of the issue is that the Olympics Committee rarely tries to add events to an already packed schedule, especially an event that is so long (they just added open water swimming in 2008). One swimming coach who spoke to the paper noted that FINA, the international governing body of swimming, diving, water polo, synchronized swimming and open water swimming, appears to be "trying to push back" on encouraging the IOC to add the event. On one Master's Swimming discussion board, some speculated that the tradition had started for the "Same reason the Winter Olympics doesn't want women doing nordic ski jumping" (an event which, it should be noted, IOC added this year).