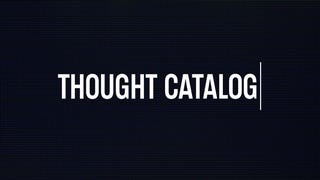 Thought Catalog is a publishing platform that operates under the idea that "all thinking is relevant." Even disgustingly transphobic thought; even incoherent racist ramblings; even classist screeds; even dangerous pseudo-science; even pages upon pages of offensive, troll-y misogyny.
In the past week, two particularly egregious articles were published on the site. The first, by noted bigot Gavin McInnes — the illustrious scribe behind "Hey, Ladies! Short Hair Is Rape," and "When It's OK To Hit A Woman" — was titled "Transphobia Is Perfectly Natural." It's since been hidden behind a warning screen, reported by the community as "hateful or abusive content," and McInnes has been asked to take a leave of absence from the advertising company he founded for being a prejudiced, terrible shit. One wonders why this backlash took so long, given the shocking amount of of misogynist, racist, homophobic, transphobic, and otherwise reprehensible content McInnes has been known to spew across the Internet.
The second piece, by a writer named Anthony Rogers, was entitled "Ferguson, Missouri Looks Like a Rap Video." It's also been tagged as "hateful or abusive," because it was.