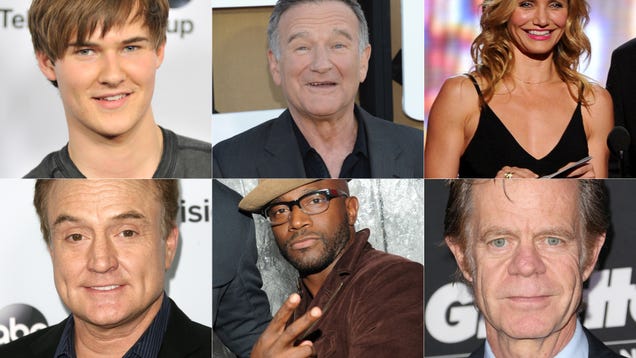 At Splitsider this week, Meredith Haggerty expertly explored what happens to the social media accounts of television shows that go off the air. "Sad things," she concludes. Well, while the accounts of actual people who join social media platforms to promote said shows aren't always quite as sad, they are pretty funny in their own ways.
When an actor joins social media to promote a project, sometimes it turns out well, sometimes it doesn't. Behold the myriad of ways these experiments go.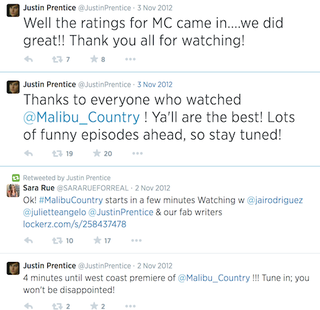 Exhibit A: The Newbie
Justin Prentice is a young actor you may or may not have heard of who joined Twitter in 2011.
Hey guys. Thank you all for following me! Y'all rock! Btw, the movie "Terri," which I am in, is in select theaters across the U.S.!

— Justin Prentice (@JustinPrentice) August 18, 2011
He then didn't tweet for a year. Prentice began again when he got cast on Malibu Country (a cancelled show which has a particularly sad Twitter account, as Haggerty points out in her piece).
Howdy yall! Sorry for the absence of tweets over the past year ha. I'm still not very twitter literate, but I will attempt to tweet more!

— Justin Prentice (@JustinPrentice) September 29, 2012
After that, Prentice was pretty consistent about tweeting, until he wasn't, taking a year break from the service again. Finally he got another job and, low and behold, took up with it again a few months ago.
I'm momentarily back from my journey off the face of the earth. Big news!!..that I can't say in this tweet without exceeding the word limit.

— Justin Prentice (@JustinPrentice) May 8, 2014
I'm thrilled to be joining the ABC Family...family. Unintentional pun.

— Justin Prentice (@JustinPrentice) May 8, 2014
Cool.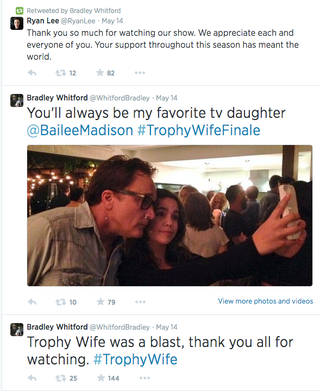 Exhibit B: The Start-and-Stopper
Formerly of The West Wing, Whitford was cast on the sadly cancelled Trophy Wife last year. According to him, he joined Twitter at the behest of his then-TV daughter Bailee Madison, though during his brief eight months on the platform, he mostly attempted to live-tweet the show, sharing occasional West Wing reunion vids and a goodbye to Philip Seymour Hoffman.
I did it. I'm tweeting. @BaileeMadison forced me.

— Bradley Whitford (@WhitfordBradley) October 14, 2013
His feed has not included a tweet since May, and most of the last ones were goodbyes to the show. This prompted his former coworker Joshua Malina (now on Scandal) to remark last week that Whitford's feed was "depressing."
. @WhitfordBradley's feed is depressing.

— Joshua Malina (@JoshMalina) July 22, 2014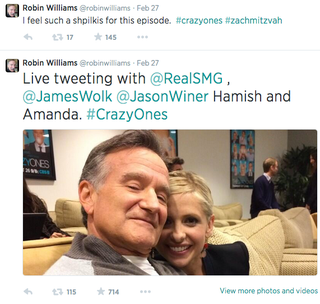 Exhibit C: The Occasional Poster
Though Robin Williams joined Twitter and Instagram somewhat inauspiciously, the move was clearly pegged to the release of his show The Crazy Ones in the fall of 2013.
Ready to hit the road with @David_Steinberg this week in Charleston. pic.twitter.com/SxeBlHQS

— Robin Williams (@robinwilliams) January 23, 2013
It's a wrap. #thecrazyones pic.twitter.com/nDON5L0TXP

— Robin Williams (@robinwilliams) April 11, 2013
According to Twitter, Robin Williams and former co-star Sarah Michelle Geller share a robust friendship (Geller also joined the service for the show, but seems to have dug it enough to stick around). While Williams does not seem to have caught the social media bug the way @RealSMG has, he's still chugging along, sharing content and generally enjoying himself.

Exhibit D: The Easily Distracted
Cameron Diaz joined Twitter and Instagram in November to promote her new book The Body Book. For a period of a few months, her feeds were mostly dominated by content about that project, though she was quite active about interacting with enthusiastic fans.
I JUST got a super cool new app called Twitter. Twelloooo!!!

— Cameron (@CameronDiaz) November 8, 2013
Thank you for the warm welcome!! It's so fun and I'm sorry I was so late to the party, now I know why everyone's here!!

— Cameron (@CameronDiaz) November 9, 2013
Cameron kept on going after the book was released as she worked to promote her next big project, The Other Woman. But besides a crazy spree on Christmas Day when she retweeted basically anyone who tweeted "Merry Christmas" at her, she hasn't tweeted or Instagrammed since March when it came out, though her Instagram did feature some more personal pictures, like this picture of her good friend Drew Barrymore.
Exhibit E: The Inconsistently Entertaining
William H. Macy joined Twitter when he began working on Shameless in 2010.
Gentle folk. I'm doing a pilot for Showime - SHAMELESS. I'll keep you posted

— William H. Macy (@WilliamHMacy) January 22, 2010
He become somewhat of a delight on Twitter, posting funny and personal things semi-regularly.
Flicka and me ran off to Palm Springs for the night. pic.twitter.com/XIDIvvEmIK

— William H. Macy (@WilliamHMacy) May 5, 2014
Well, except for the very long hiatus he took between 2010...
Gentle FolkI'm doing an indie called Dirty Girl. My scenes are with Milla J. What fun. I finish my part tomorrow.

— William H. Macy (@WilliamHMacy) April 13, 2010
...and 2014.
Woke up this morning, feeling incomplete, so I took to my desk and started to tweet. Love, Macy

— William H. Macy (@WilliamHMacy) April 22, 2014
Don't worry, it seems like he's back with a vengeance now.
Severe cuts in costume budget. pic.twitter.com/oEEjH4fdMM

— William H. Macy (@WilliamHMacy) July 14, 2014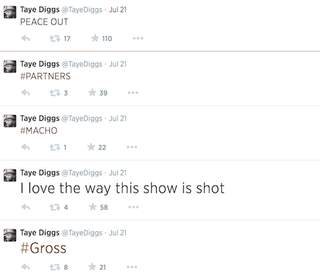 Exhibit F:
Taye Diggs
Though Taye Diggs has only recently gotten attention for his activities on Twitter (and Vine), he actually joined back in 2011 to promote his children's book Chocolate Me.
I love new york. So much.

— Taye Diggs (@TayeDiggs) September 27, 2011
Taye has gotten made fun of for following basically everyone, but his actual tweets were pretty entertaining before he got ready to up his game for his new show Murder in the First. Don't go too far into his feed because you'll see sad reminders of the love he once shared with Idina Menzel, but he still likes to share stuff about sports and just um, stuff that's happening in his life.
Because of what he's done with the medium – and the attention he's gotten for it – Taye Diggs gets his own category. Congrats, Taye Diggs.
Images via Getty