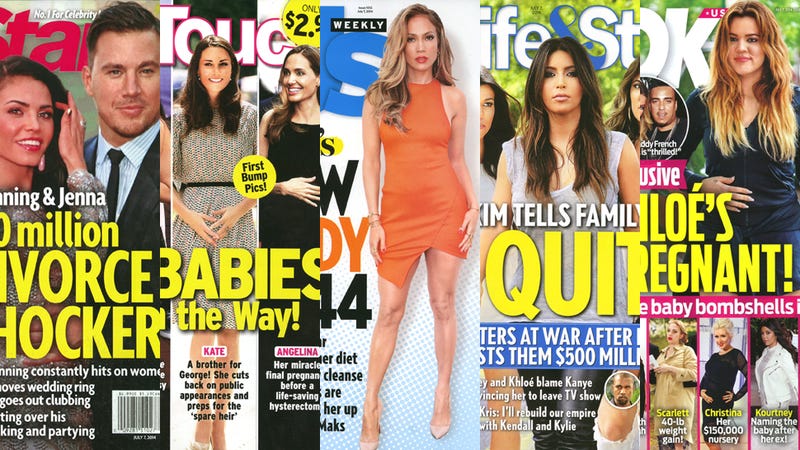 Welcome back to Midweek Madness, in which we suffer the slings and arrows of outrageous gossip and "read" the tabloids so you don't "have" to. This week: Beyoncé and Jay Z visit Gwyneth's "conscious uncoupling" marriage counselor; Jenna Dewan and Channing Tatum are on the rocks; and the Bachelorette got knocked up in the fantasy suite. So much drama.
---
Us
J. LO'S NEW BODY AT 44
Renowned Bodysnatcher Jennifer Lopez swapped her old body for a new one and this is news! Actually, in April, she was "determined to lose what she called 'that really stubborn 8 to 10 pounds'" so she went vegan. By eating a meat-, dairy-, and gluten-free diet — and working out A LOT, in addition to six hours of dance rehearsals — she dropped 10 lbs and thus is an entirely new person, worthy of our adulation. Immediately following this cover story is a two-page spread titled "Fit Over 40," showcasing Padma Lakshmi, Cameron Diaz, Bethenny Frankel, Naomi Campbell, Demi Moore and others in bikinis, with the copy reading "these beauties prove age is just a number." A number that matters not, so long as you are thin! Also inside: George Clooney wants to be a U.S. Senator, so his stepping stone might be running for governor of California in 2018: "and now he's got the perfect first lady." Apparently his decision to get hitched right away is all part of the strategy to shed his image as a playboy bachelor. Behind every great man are a bunch of women giving him the side-eye. Finally: Us does the important work of pointing out which World Cup soccer players look like celebrities. (Fig. 1) Thank you.
GRADE: C- (death by bacon-sprinkled milk chocolate with gluten)
---
Star
$50 MILLION DIVORCE SHOCKER!
A similar narrative has played out in dozens, if not hundreds of issues of tabloids, with various couples, but here it is again: Channing Tatum and Jenna Dewan-Tatum's "marriage is on the brink." Career and travel just get in the way. He showed up on a couple of red carpet without her, said simply, "she's working," and we're supposed to believe that is code for "impending divorce." Scheduling and the wee baby are making things tough. He made four movies in 18 months; she's working on Lifetime series The Witches of East End, and he was seen out partying and "acting like a single man." Back while she was pregnant, he was spotted at some bar buying rounds of shots for "tons of adoring girls" and then "let them do body shots off his stomach." When asked, "where's your wife," he answered, "She's not here." And it's all hearsay and anonymous sources and old magazine quotes, on and on til the break of dawn. Next: There's a Jessica Simpson item that's so infuriating it has its own post. Check it out. Moving along: Gwyneth Paltrow has a "battalion" of 20 medical care providers on call: allergist, blood analyst, naturopath, osteopath, etc. Oh. And. Beyoncé and Jay-Z are in couples therapy. Things haven't been right since THAT night in the elevator, so they're seeing Gwyneth's therapist, the one responsible for "conscious uncoupling." This should be interesting. What else? Justin Bieber fell asleep during Bible study. Ryan Gosling is still in love with Rachel McAdams. And last, but not least, there's a Cameron Diaz "sex tape" out there — but it's actually just video of her topless, in bondage leather, at a photo shoot. No pearl-clutching necessary.